View all news
Corresponding with Conflict at the Theatre Collection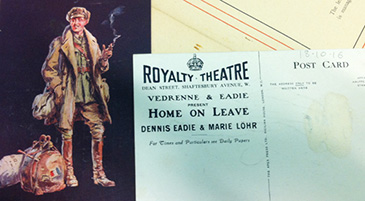 Press release issued: 31 July 2014
As part of this year's First World War centenary commemorations, a new exhibition which aims to breathe new life into archival material dating from the 1914-1918 period and encourage fresh encounters with it, opens this Friday at the University of Bristol Theatre Collection.
Corresponding with Conflict, curated by Artist in Residence Clare Thornton, will include two new art pieces presented alongside the original wartime documents that inspired their creation. It is hoped this will help visitors make deeper, unexpected connections with these evocative archival materials.
The exhibition will provide glimpses into how conflict and everyday life became entwined, and how people at home responded to such tragic times. Through playbills, programmes, photographs, letters and the occasional object the story of everyday responses to the war is revealed.
From adverts asking people to send Chewing Gum to the soldiers to formal announcements from the Prime Minster to be read aloud in the theatre asking people to 'Hold Fast', the little details that survive in the archive allow us to reflect more deeply on these times.
The exhibition will also feature a limited edition screen print inspired by wartime era theatre playbills and programmes created by artist Clare Thornton and a new interpretative, text-based work created by Theatre Bristol Writer in Residence, Richard Aslan.
Theatre Collection Director, Jo Elsworth said: "This exhibition demonstrates how tiny fragments pieced together from the archive can be combined to tell a much richer, more poignant story of how the impact of the First World War was felt in everyday life, and the role theatre played in helping people come to terms with all that was happening."
Artist in Residence, Clare Thornton said: "It's been wonderful to return to the Theatre Collection once again and work within this exceptional resource. An endlessly intriguing array of materials have sparked new lines of enquiry and inspired new works. I am fascinated by the visual language of the early twentieth century era and spent many hours viewing First World War programmes, playbills and theatre ephemera which will be on display in the exhibition."
The exhibition is open Mondays 12pm-4pm; Tuesdays-Fridays 10am-4pm from 1 August until 22 August, and then reopens 15 September-31st October at the University of Bristol Theatre Collection, 21 Park Row, Bristol BS1 5LT. Admission free.
The Corresponding with Conflict exhibition has been generously supported by the Friends of the Theatre Collection, Bristol Institute for Research in the Humanities and the Arts (BIRTHA) and private donations. It forms part of the city-wide centenary commemorations.
In an exciting new partnership, Spike Print Studio will also be hosting a project-related workshop responding to Archival Prints on Saturday 9 August. The workshop will be led by artist, Clare Thornton, in conjunction with curators and will use documents from the Theatre Collection to inspire new work.
University of Bristol Theatre Collection
The University of Bristol Theatre Collection contains one of the largest archives relating to British theatre history in the world. It is also an accredited museum and a research facility open to all. Its collections cover all aspects of theatre history up to the present day and include original documents, photographs, artwork and artefacts. Significant archive collections include London Old Vic, Bristol Old Vic and the world renowned Raymond Mander & Joe Mitchenson Collection. Research visitors include a wide range of people from local students to international academic scholars and from family historians to the public who come to see the small, regularly changing exhibitions.
The Theatre Collection is based at 21 Park Row, Bristol BS1 5LT. For further information about the collection, please contact Jo Elsworth, 0117 3315086 theatre-collection@bristol.ac.uk