View all news
Researchers hope to identify new drug targets to treat brain tumours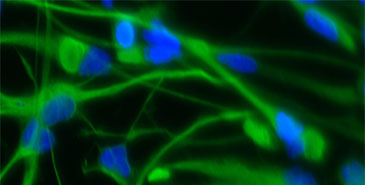 Press release issued: 23 July 2014
Around 7,000 people in the UK develop primary brain cancer each year but only ten per cent of patients are still alive five years after diagnosis. A new research project has been awarded a grant of over £200,000 to look at a pathway in brain tumours called peroxisome proliferator-activated receptor (PPAR) and identify any possible new drug targets to treat the disease.
The 2014 Pathological Society/Jean Shanks Foundation Joint Research Fellowship has been awarded to Drs Harry Haynes and Kathreena Kurian in the University of Bristol's Brain Tumour Research Group based in the Department of Neuropathology at North Bristol NHS Trust.
There is preliminary evidence that patients on a common antidiabetic drug, PPAR agonist, have a lower incidence of a type of brain tumour called a glioma. Gliomas make up less than 30 per cent of all brain and central nervous system tumours and 80 per cent of all malignant brain tumours.
Dr Kathreena Kurian, Head of the Brain Tumour Research Group and Senior Clinical Lecturer in the School of Clinical Sciences, said: "Brain cancer affects both adults and children, and in children it is the second highest cause of death after accidents. There is an urgent need for better treatments for primary brain tumours because of the low survival rate for patients.
"Our research project will look at the PPAR pathway in brain tumours from the North Bristol Trust Brain Tumour Bank South West (BRASH). We hope to discover whether there are potential novel targets we can use in the treatment of the disease."
The research project, which will begin in August 2014, will:
Study PPAR expression in human glioma samples and establish a relationship with clinical outcome. PPARγ and α expression will be compared to other known glioma prognostic biomarkers. Expression of downstream PPAR mediators will be also be examined.
PPAR expression in human glioma samples will be compared with markers of the growth of new cells, new blood vessels and invasion. Mice xenograft models will also be established. PPARγ and α expression in healthy adult cortex will be used as controls.
The efficacy of PPARγ and α agonists will be concurrently tested in primary glioma cell cultures derived from the specimens above in order to identify the most effective agents, stratified by initial PPARγ and α expression. The effects of PPARγ and α agonists against cultured brain tumour initiating cells will also be established.
The 2014 Pathological Society/Jean Shanks Foundation Pathological Research Training Fellowship has awarded funding of £212,272 to Dr Harry Haynes and Dr Kathreena Kurian for the three-year research project, entitled An analysis of PPAR expression in human gliomas: its use as a novel diagnostic, prognostic and predictive biomarker.