View all news
Former Habitat building to become student hub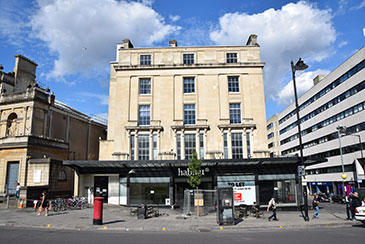 Press release issued: 17 July 2014
The former Habitat store is to be given a new lease of life thanks to the University of Bristol, which has today announced its acquisition of the flagship building.
Beacon House, the Grade 2 listed building on the corner of Queen's Avenue and the Triangle, has been on the market since Habitat went into administration almost three years ago.
The purchase is the latest in a series of investments by the University in teaching and research facilities, totalling in excess of £200 million in the last two years.
It will become a central study and learning hub for students, providing an additional 350 study seats with separate areas for group working.
In addition to various student support facilities, plans are also afoot for a café and perhaps a bookshop or bank in the four storey, 2,643 square metre building.
Professor David Clarke, Deputy Vice-Chancellor of the University of Bristol, said: "We're very excited about the prospect of transforming Beacon House into a building which will be a central hub for our students, in one of the city's best locations.
"This is part of our ongoing commitment to investing in new facilities for our students and academics, which is a top priority if we're to remain one of the UK's top universities and compete with universities overseas."
The University says Beacon House will become a key part of its city campus thanks to its location between the Students' Union on Queen's Road and various teaching and research activities around Tyndall Avenue and Woodland Road.
It's hoped work to transform the building will be underway by the end of the year.
Beacon House, next to the Royal West of England Academy, was constructed in the 1850s and was formerly the Queen's Hotel before being used for retail purposes – Gardiners in the 1930s, Debenhams after the war and more recently Habitat.
The University was represented in the transaction by Alder King, while national property consultancy Lambert Smith Hampton (LSH) acted on behalf of the vendor, working closely with the seller to ensure that Beacon House was bought by a company that would enhance the property.
Peter Musgrove, Director of Office Agency at LSH's Bristol office said: "This was no ordinary property deal. We received a lot of interest from a variety of occupiers – the vendor cares very much for the local community and wanted to make sure that the buyer would use Beacon House in a way that would benefit the local area. It was felt the university provided that assurance."