View all news
Vet School academic receives AVMF/Winn Feline Foundation Award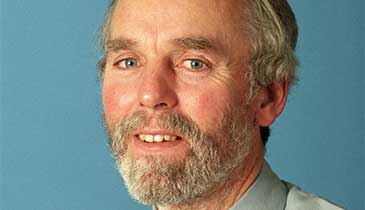 Press release issued: 28 July 2014
This week the American Veterinary Medical Association (AVMA) will recognise the University of Bristol feline medicine specialist Professor Timothy Gruffydd-Jones with the 2014 AVMF/Winn Feline Foundation Award at its 2014 meeting.
During the AVMA's Annual Convention in Denver [July 25–29], the AVMA will honour some of the nation's top veterinarians, individuals and organisations during several events and ceremonies. The award recipients are dedicated professionals who have made a difference in the lives of both animals and people across the country and around the globe. These individuals represent the best in all areas of veterinary medicine, from education and public service to research and private practice.
The AVMF/Winn Feline Foundation Award is given annually to a distinguished member of the association to honour a candidate's long-term contribution to advancing feline research. Professor Gruffydd-Jones will receive the award during the American Veterinary Medical Foundation breakfast on Sunday, July 27.
Professor Gruffydd-Jones has devoted most of his career to feline medicine. He qualified from the Royal Veterinary College in London in 1973 and then spent 18 months in practice before coming to Bristol University's School of Veterinary Sciences as the Feline Advisory Bureau Scholar. He has remained in Bristol since that time. As a Wellcome Scholar, he earned his PhD on reproduction in cats in 1982. He became a diplomate of the European College of Veterinary Internal Medicine in 1998 and was appointed to a chair in feline medicine, also in 1998.
Professor Gruffydd-Jones is interested in all aspects of feline medicine, but particularly infectious diseases, gastroenterology, endocrine disorders and breeding problems. He was chairman of the Feline Advisory Bureau, now known as International Cat Care, from 1980-2002 and is currently deputy chairman of Cats Protection, the largest cat rescue charity in the United Kingdom.
His awards include the BSAVA Woodrow Award, the ESFM International Award for outstanding contributions to feline medicine and the AHT WAG award for scientific achievement. Professor Gruffydd-Jones has a longstanding interest in pedigree cats and has worked closely with various breed clubs, serving as president or vice president in several.
Further information
About the American Veterinary Medical Association (AVMA)
The AVMA, founded in 1863, is one of the oldest and largest veterinary medical organizations in the world, with more than 85,000 member veterinarians worldwide engaged in a wide variety of professional activities and dedicated to the art and science of veterinary medicine. Its annual convention continues to be one of the largest gatherings of veterinarians in North America. Upcoming conventions will be held in Boston (July 10-15, 2015) and San Antonio (August 5-9, 2016).