View all news
Searching for the mysteries of College Green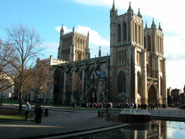 Press release issued: 19 June 2012
Bristol Cathedral, in partnership with the Department of Archaeology and Anthropology at the University of Bristol, is to carry out an archaeological survey of College Green. The survey will take place, weather permitting, on 18-20 June 2012, with a possible follow-up survey the following week.
The geophysical survey will cover the entire Green, aiming to identify any features – such as the locations of graves and buildings – that may lie buried beneath the surface.
The Green is one of Bristol's most important sites, having been the centre of civic life for several centuries; before 1542 it was the cemetery of the abbey of St Augustine, which became the cathedral in that year. Among mysteries that may be revealed by the survey are the location of the Bristol High Cross, moved to the Green in the eighteenth century; and of a medieval chapel said to have contained the relics of Bristol's enigmatic 'patron saint', St Jordan.
"We are very excited about this partnership," said the Very Reverend Dr David Hoyle, Dean of Bristol Cathedral. "College Green is at the heart of Bristol's civic identity and was originally Bristol's premier sacred space. We have no idea what, if anything, it will reveal, but the space's origins may go back to the very roots of Bristol itself."
"This is a fantastic opportunity to look at one of the city's most important archaeological areas spanning some 1,000 years of history - it will be a real challenge to make sense of what we might find!" said Professor Mark Horton of the University of Bristol.
The cathedral owns College Green and manages it jointly with Bristol City Council.