View all news
Children of the 90s founder, Professor Jean Golding, named in New Year honours list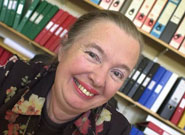 Press release issued: 31 December 2011
Professor Jean Golding has been awarded an OBE in the Queen's New Year honours list, on the eve of the 21st birthday of Children of 90s (also known as ALSPAC), the world-famous population study she founded in Bristol in 1991.
Born on 22 September 1939 in Cornwall as Jean Bond, Professor Golding showed an early aptitude for biology, biochemistry and animal behaviour but a bout of polio at age 14 hampered her ability to spend long periods of time in a laboratory. She went on to read mathematics ('a completely sedentary subject') at St Anne's College, Oxford. She was married briefly to Alan Fedrick and taught for a year before having two children in quick succession. By then in London, she obtained an hourly paid job working in epidemiology (the study of health in a population). Having fallen in love with the topic she went on to do a PhD in Medical Statistics at University College London.
Prior to establishing Children of the 90s, which has been charting the health and wellbeing of 14,500 mothers and their children since the early 1990s, Professor Golding was involved, as Jean Fedrick, with the Oxford Record Linkage Study and the 1958 and 1970 national cohort studies. She also advised and helped design the National Greek Perinatal Survey and the Jamaican Birth Survey. In order to promote the science of the epidemiological study of pregnancy, childbirth and child development, she was instrumental in founding the international journal Paediatric and Perinatal Epidemiology, which she continued as editor-in-chief for 25 years.
It was analyses of the large surveys in which she had been involved that highlighted for her the importance of the fine detail that was not available in major national studies and enabled her to design a very detailed protocol for the collection of data that is evident in the Children of the 90s study today.
On retirement as director of that study in 2006, she was commissioned by the World Health Organization and the National Institutes of Health to develop a guide to designing and running longitudinal studies to assess the influence of the environment (both psychosocial and physical) on the health and development of children. The resulting publication has been widely praised. Her current activities include research into various environmental factors that affect a child's development, including, in particular, aspects of the diet and pollutants such as lead and mercury; but she considers the most exciting of her studies is being undertaken with Professor Marcus Pembrey – this uses the information collected in Children of the 90s to look at the possible effects of the environment across generations.
She has published over 350 peer-reviewed papers and her other honours include Fellow of the Academy of Medical Sciences and Emeritus Professor of Paediatric and Perinatal Epidemiology at the University of Bristol. She was also runner up in the UK European Woman of the Year competition in 1998.
When not working, she enjoys good company, good food and a modicum of wine, but most of all the company of her two children and grandson.
Speaking about her nomination for an OBE, Professor Golding said: "This I see as an honour not just for me but for the many participants and members of staff that contributed to the many studies I have been involved with, especially those in Children of the 90s"