View all news
Pioneering partnership is set to tackle brain disease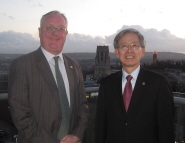 Press release issued: 21 December 2011
A new partnership between Bristol University and a leading South Korean University will be at the forefront of research into tackling neurodegenerative brain diseases such as Alzheimer's and Parkinson's.
The collaboration with
Chonnam National University
[CNU] aims to speed-up how research is translated into treatment for patients, subsequently helping to tackle some of the global problems linked to an aging society.
Delegates from CNU visited Bristol to formally launch the Bristol Chonnam Frontier Lab, which has secured £2million worth of funding from the Chonnam National University Hospital for at least 10 years.
It is hoped that the research will be successful enough to secure a further £10million from the South Korean government to extend the length and scope of the project.
The new lab will enable academics to explore existing research which has identified an early target molecule which causes brain disease. CNU has a well-established university hospital which will conduct clinical trials that would otherwise suffer time delays and cost barriers in the UK.
Professor Kei Cho, Chair of Neuroscience in the School of Clinical Sciences at Bristol University, said: "CNU are very interested in the work we've already carried out in the field of synaptic plasticity. We've identified a target molecule which causes other proteins to change their behaviour in nerve cells and ultimately lead the nerve cells to stop functioning properly in brain.
"Combining early stage research and clinical trials within the same team is very unique and will ultimately speed up the process of transforming research into actual treatments for brain diseases such as Alzheimer's and Parkinson's. Pharmaceutical companies have already expressed an interest as they can see the potential for life-saving drugs to originate from this new collaboration."
Two clinicians will come to the new lab from CNU every year to carry out the research alongside Bristol University's own academics.
The lab will be is based in the Dorothy Hodgkin Building on Whitson Street and will run alongside The Centre for Synaptic Plasticity - a joint venture between the Medical Research Council and the University of Bristol.
A Memorandum of Understanding was signed by CNU's President Professor Yoon Soo Kim and Professor Guy Orpen, Pro Vice-Chancellor for Research at the University of Bristol. It signifies the start of the relationship and opportunities for collaboration through the Worldwide Universities Network [WUN] in the future.
Professor Yoon Soo Kim said: "We wanted to work closely with Bristol on this important area of neuroscience as it delivers top quality education and performs world-class research. We are interested in the MRC Centre for Synaptic Plasticity in particular as we wish to follow this as an ideal model for a basic translational research programme in CNU hospital."
The Bristol Chonnam Frontier Lab will be operational from March 2012.