View all news
Bristol law professor in prestigious book prize finals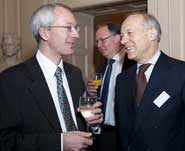 19 December 2011
Julian Rivers, professor of jurisprudence in the School of Law, was one of five finalists in the competition for the 2011 Inner Temple Book Prize.
The prize is sponsored by the Inner Temple, one of the four Inns of Court, and by publisher Wiley & Sons. It is given every three years to encourage and reward outstanding scholarly contributions to the understanding of the law as administered in England and Wales. Over a hundred books published during the past three years were submitted to a distinguished panel of senior judges and academic lawyers chaired by Lord Woolf, former Lord Chief Justice and Master of the Rolls. The prizes were presented on 8 December by the Inner Temple's Royal Treasurer, HRH The Princess Royal.
The book by Julian Rivers is the first systematic reconstruction of the law regulating collective religious belief and practice in England and Wales. The Law of Organized Religions: Between Establishment and Secularism was published by Oxford University Press in 2010.
Professor Judith Squires, Dean of Social Sciences and Law, said: 'It was no mean feat to reach the finals among such a distinguished and competitive field and we congratulate Professor Rivers on his achievement.'
The prize was won by Paul D. Halliday for his book Habeas Corpus: From England to Empire (Harvard University Press, 2010).