View all news
Campaign takes off with the addition of iconic Bristol balloon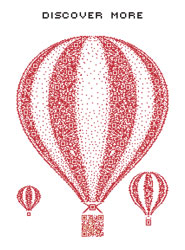 Press release issued: 12 December 2011
A marketing campaign to maximise awareness of the University of Bristol, as well as that of the city of Bristol, has been extended to include images of hot air balloons, recreated in QR codes.
The success of the first '
Discover More
' advertisement, featuring the iconic image of Bristol's Suspension Bridge with square QR codes forming part of the bridge's towers, won plaudits for its innovative design and saw traffic to parts of the University's website increase by over 350 per cent.
Now, continuing the distinctive theme, an eye-catching hot air balloon has been created with a QR code for its basket. This appeared in the Observer magazine yesterday [11 December] and will capture the attention of travellers at St Pancras for the next four weeks thanks to a billboard campaign.
QR codes are a type of matrix barcode which, when scanned on a mobile phone, can take people to a specific website. Both the Suspension Bridge and hot air balloon adverts take people to an exclusive section of the University's website which promotes both the city of Bristol and the University.
The campaign is believed to be the first in the country to incorporate QR codes in this way and has received praise from the advertising industry.
David Alder, Director of Communications and Marketing at the University of Bristol, said: "The aim of the campaign was to raise further the awareness of the University and the city to all audiences, including prospective students. It was important that we pushed the boundaries in terms of design as a highly innovative University and city deserved a campaign that was very creative.
"Phase one of the campaign, which featured the Bristol Suspension Bridge, has been incredibly well-received and people are still talking about it. It was important that we continued to evolve the creative within the campaign, based around the innovative use of QR code, hence leading with the balloon design, which is another icon of the city of Bristol, for phase two of the campaign."
Further information
The campaign was created by the University of Bristol in conjunction with Peloton Design, as well as Out of Home International and TMP Worldwide.