View all news
Young researcher wins Women in Science award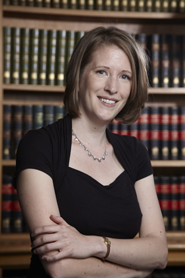 1 July 2011
Dr Heather Whitney, European Research Council Research Fellow in the School of Biological Sciences, is one of four winners in this year's L'Oréal-UNESCO UK and Ireland Fellowships For Women in Science.
Dr Whitney received her award at a ceremony held on 28 June at the Royal Society.
The Fellowships are run in partnership with the UK National Commission for UNESCO, the Irish National Committee for UNESCO and the Royal Society and aim to promote greater participation of women in science. Four Fellowships, each worth £15,000, are awarded annually to women scientists in the early stages of their career pursuing postdoctoral research in the UK or Ireland in the life or physical sciences.
The award will support Dr Whitney's research into the ecological relevance of iridescence (a widespread optical phenomenon where a surface appears to change colour when seen in different lights or from different angles) in spike-moss plants.

Dr Whitney said: 'I am interested in plant-animal communication, particularly in the signals that plants produce (and how they produce them) and those that animals can perceive. Iridescence is a common a signal occurring between animals and has been widely studied in birds and butterflies, but is also found in plants, where it could have many functions, including increasing photosynthesis or deterring herbivores when it occurs in leaves, or attracting pollinators when it occurs in flowers. My research focuses on iridescence found in the leaves of an evolutionarily ancient group called the spike mosses (Selaginellaceae).
'The function of this iridescence is currently unknown, but the L'Oréal-UNESCO Fellowship will give me the opportunity to look at these plants both in their ecological end evolutionary context. If this leaf iridescence does enhance photosynthesis or deter herbivores, it could potentially be used to improve crops.
'The award has a more immediate value for me, however, as it means I can develop a new aspect to my research as well as meet new collaborators, learn new skills and ultimately, I hope, discover the reason for this strange but fascinating phenomenon.'
Professor Innes Cuthill, Head of the School of Biological Sciences, said: 'It's no surprise that Heather has won this award, but nevertheless a great pleasure; she is a genuine innovator and the very model of an interdisciplinary scientist. Heather's appeal, and potential, rests on her unusual intellectual history, moving between plant biochemistry, optical physics and animal behaviour – not a random walk but the set of skills you need to tackle the questions she is asking.'
Julie McManus, Head of Scientific and Technical-Regulatory Affairs, L'Oréal UK and Ireland said: 'The L'Oréal-UNESCO For Women In Science awards recognises the excellent work which female scientists are undertaking and provides the financial support necessary to support women's careers.
'Past recipients of the awards have gone on to make important scientific discoveries and win Nobel Prizes, a huge feat when it is considered that only 2.5 percent of Nobel Prize winners are female. We hope that celebrating the success of these truly inspirational women will inspire the young girls of today to be the scientists of tomorrow.'
Video of Dr Whitney talking about her work: