View all news
Major new research project hopes to find a treatment for Alzheimer's disease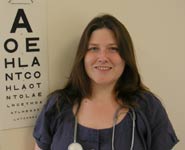 Press release issued: 2 June 2011
A partnership between the University of Bristol, BRACE and North Bristol NHS Trust will fund a world class dementia research team and a new treatment clinic.
Scientists at Frenchay Hospital have been given £1 million to help find a treatment for Alzheimer's disease.
The partnership between the University of Bristol, BRACE and North Bristol NHS Trust will fund a world class dementia research team and a new treatment clinic.
The new funding will enhance Bristol's reputation as one of the world's leading dementia research centres. BRACE's contribution will be £545,000 over five years, funding the research element of the project.
Dr Liz Coulthard, head of the new research unit and a consultant senior lecturer in dementia neurology in the University of Bristol's School of Clinical Sciences, said she hoped that the team would develop improved methods of diagnosis and eventually also medications to treat Alzheimer's.
She said: "Work will focus on translating the world class preclinical dementia research in Bristol into pharmaceutical trials for patient benefit.
"Over the next five to ten years, we hope that dementia research will yield a range of effective medications, allowing treatment to be tailored according to the needs of each patient.
"I am delighted to take on the challenge of developing dementia care and research in Bristol. I hope that through high quality research in Bristol, we can transform the outlook for dementia sufferers."
A new neurology dementia clinic held in the BRACE centre in Frenchay hospital, where patients with dementia will be accurately diagnosed and treated, will run alongside the programme of clinical dementia research.
Mark Poarch, chief executive of fundraising charity BRACE, said the battle against Alzheimer's was only possible with the support of the public.
He said: "People from Bristol and the wider region have really made this new research possible with their incredibly generous donations.
"We've put £500,000 into the project because we believe it has the potential to transform the treatment of Alzheimer's disease in the coming years.
"Research really does hold the key in terms of beating this terrible illness once and for all. I know the people of Bristol will continue to do all they can to help us win this fight."
BRACE supports a number of research teams in Bristol and the South West, including scientists at Frenchay Hospital and Bristol University.
Dementia affects 1 in 20 of the over 65s and 1 in 5 of the over 80s although it is certainly not a normal part of ageing. In Avon alone there are 15,000 dementia sufferers.
Further information
BRACE is a registered charity (No. 297965) established in 1987 to finance research into conditions of the elderly, particularly Alzheimer's disease. BRACE supports research projects undertaken in universities and hospitals in the South West of the UK, particularly in Bristol, which is a centre of excellence for neuroscience research.
BRACE has raised more than £11 million to help support diverse research projects into all aspects of dementia.
BRACE is one of only a few charities that exists specifically to finance dementia research - this work is vital if future generations are to be free from the fear of this devastating illness.