View all news
Engineering student reaches ICE competition final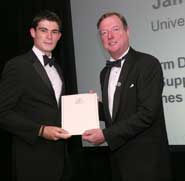 15 June 2011
James Cox, a PhD student in the Department of Civil Engineering, has reached the Institution of Civil Engineers (ICE) 2011 Graduate and Student Paper Competition (GSPC) final.
Cox's paper, entitled 'Long-term dynamics of offshore structures, founded on suction caissons', was chosen as the best of the selected papers submitted in the South West regional heat. He is one of three finalists who will presenting their papers and taking questions on them at Johnstown Building, University of Glamorgan in Pontypridd on 21 June. Questions can be asked in person or online during the final.
Professor Colin Taylor, Head of the Department of Civil Engineering, said: 'James' research is seeking to answer some fundamental questions about the long-term performance of the foundations of off-shore wind turbines, on which the UK's future energy security depends. His paper and presentation explained the complex issues in a very accessible and informative manner. We wish him well for the national final.'
The annual GSPC offers ICE graduate and student members the opportunity to submit a paper on any civil engineering-related topic and compete for the top prize of £1,500, vouchers and the Institution Medal. This year the event is sponsored by Atkins, Oasys, the University of Glamorgan, Thomas Telford Training and ICE Publishing.
More information about the competition, including how to reserve a seat at the final, is available on the ICE website.