View all news
Be enchanted: University Library hosts spellbinding exhibition of rare books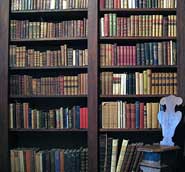 14 June 2011
An assemblage of rare and unique books and periodicals associated with the English art historian, poet, architect and typographer Herbert P. Horne (1864-1916) is being exhibited on the ground floor of the Arts and Social Sciences Library until 25 July.
'Spellbound: Book Design and the Writings of Herbert P. Horne' has been curated by final-year History of Art student Francois Vandame and is the result of three years of research at numerous institutions in the UK and abroad. It is the first exhibition relating to Herbert Horne to be held in the UK since 1916, when the Burlington Fine Arts Club hosted a display of his drawings.
Although Horne is known primarily for an undying passion for Italian Renaissance painting that would culminate in the foundation of the Museo Horne in Florence in 1916, Spellbound focuses on his interest in typography and bookbinding, with special attention devoted to his revolutionary monograph on Botticelli, his writings relating to book design, and his interaction with other Victorian-era polymaths such as A.H. Mackmurdo, Selwyn Image and Olivier-Georges Destrée, as well as the poet Lionel Johnson and the bookbinder T.J. Cobden-Sanderson.
Featured works include two first editions of Horne's Alessandro Filipepi, one with its original binding and the other with a binding that has been crafted using the guidelines for book design laid out in Horne's The Binding of Books, as well as an original binding by Stella Cobden-Sanderson of the Doves Press, and a selection of typefaces and books that were designed by Horne in the 1890s.
Spellbound will be accompanied by an exhibition catalogue; for further information please contact Francois Vandame at fvandame07@gmail.com.