View all news
2011 Big Tick reaccreditation for Bristol ChemLabS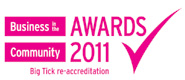 8 June 2011
Bristol ChemLabS' schools outreach programme has retained its Big Tick status for the second year in a row in the Business in the Community (BITC) 2011 Awards for Excellence.
Big Tick awards identify and celebrate organisations that have a positive impact on the community, environment, marketplace and workplace. Bristol ChemLabS achieved the Big Tick reaccreditation in the 2011 Nationwide Education Award category for demonstrating its continuing success in raising the attainment and aspirations of young people aged 5-19 years in the UK through building sustainable partnerships with schools.
Bristol ChemLabS first achieved the Big Tick and 'Highly Commended' status in 2009, and won a reaccreditation award in 2010. The 2009 Big Tick was the first ever awarded to a university department for outreach activities, and the first awarded to an educational programme in the chemical sciences.
Pro Vice-Chancellor Professor Avril Waterman-Pearson said: 'We are delighted that Bristol ChemLabS has been reaccredited in the 2011 Awards for Excellence. Its schools outreach programme continues to have a significant impact on the aspirations and achievements of young people, and the award reflects a huge amount of inspired work on the part of the ChemLabS team.'
Stephen Howard, Chief Executive, Business in the Community, said: 'I congratulate Bristol ChemLabS on achieving their Big Tick. It is a challenging time for business, but this is a sign that companies are not losing their focus and are transforming their businesses to make a positive impact on people and society and are prepared to lead by example. That's what Business in the Community's Awards for Excellence are all about – celebrating responsible business, the leadership that makes it happen and the benefits to the business and society of doing so. Communities and consumers need to see that businesses are proactive, visible and engaged on the big issues of the day, as Bristol ChemLabS has demonstrated.'
Bristol ChemLabS was presented with a Big Tick reaccreditation certificate by Stephen Howard at the South West Awards for Excellence Gala Dinner at St George's, Bristol on 7 June.