View all news
Bristol academics at the Cheltenham Festival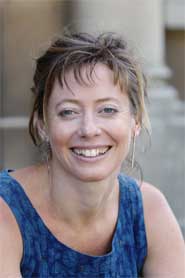 3 June 2011
Three Bristol academics will be taking part in The Times Cheltenham Science Festival next week, debating subjects from ocean acidification to Darwin's law of survival, and competing in a game of Call My Scientific Bluff.
Professor Andy Ridgwell from the School of Geographical Sciences, who models the effects of climate change, will discuss the impact of ocean acidification on marine life with marine scientist Carol Turley (Tuesday 7 June at 4pm, Town Hall, unreserved seating, £7).
Dr Alice Roberts, Visiting Fellow in the Department of Archaeology and Anthropology, asks whether we are still evolving and where are we heading (Friday 10 June, 6.30pm, Town Hall, unreserved seating, £9); and, with illustrator Rajeev Doshi, explores the intertwined history of anatomy and art (Friday 10 June, 10.30am, Town Hall, unreserved seating, £7).
Kathy Sykes, Professor of Sciences and Society in the Institute for Advanced Studies, will head up a team in a game of Call My Scientific Bluff, which will see contestants plunge headlong into the abyss of terminology, there to grapple, squabble and compete ruthlessly for a handful of points (Sunday 12 June, Town Hall, unreserved seating, 12.30pm, £7).
The festival runs from 7 to 12 June and offers a wide programme of debate and discovery about science. As well as over 160 ticketed events, there are plenty of free activities. For adults, there is gadget zone Area 42, where you can play a video game using just your breath or read a newspaper with moving images. Children have their own LEGO® Education and Discover Zones where they can play with dry water (feels like sand, but if you squeeze it, water will come out), experience the feeling of driving the fastest car on earth, and even see a pig disappear.
For more information, please visit the festival website or call 01242 505 444.