View all news
Ecologist and film-maker emerges with National Geographic award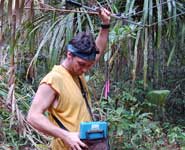 31 May 2011
Dr Adrian Seymour in the School of Biological Sciences is one of 14 young scientists and explorers to be named as National Geographic Emerging Explorers for 2011.
Dr Adrian Seymour, a Research Associate in the School of Biological Sciences, is one of 14 young scientists and explorers to be named as
National Geographic Emerging Explorers
for 2011.
Dr Seymour is a wildlife ecologist who combines his scientific research with documentary film-making, in order to document the complex pressures that threaten both wildlife and local communities. His recent studies have focused on the ecology of rain forest carnivores, including the Malay civet in Indonesia.
Part of the citation reads: 'Many films he produces tackle thorny human issues linked to conservation. The purpose of his films is not to preach, but to look at things from a local point of view and show the locals the value of keeping the environment intact.'
You can read more about Dr Seymour in a profile on the National Geographic website.
Further information
National Geographic's Emerging Explorers Programme recognizes and supports uniquely gifted and inspiring adventurers, scientists and storytellers making a significant contribution to world knowledge through exploration while still early in their careers. The Emerging Explorers each receive a $10,000 award to assist with research and to aid further exploration. The programme is made possible in part by the Catherine B. Reynolds Foundation, which has supported the program since its inception in 2004.