View all news
£1.6million for research into decision making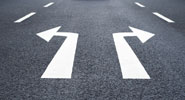 Press release issued: 25 March 2011
The University of Bristol has received £1.6million from the Engineering and Physical Sciences Research Council UK (EPSRC) to establish a new centre for research into how decisions are made. This work will ultimately lead to better artificial decision making systems such as automatic stock market trading systems and early warning systems for disasters.
The centre builds on world-class research on decision making currently being carried out at the University in the mathematical, social, behavioural and computer sciences.
Decision making is a central human capacity and a vital component of complex artificial systems. Decisions often need to be made when the environment is changing, where information is limited or unreliable, and time is of the essence. Discovering how humans cope with such change is a major intellectual challenge that has profound implications for both the understanding of human behaviour and the development of more effective artificial decision making systems.
Researchers at the Bristol centre will carry out experiments on human volunteers in order to understand how decisions are made. The resulting models will then be used in the design of artificial decision making systems aimed at tackling a range of real world problems such as food choice, financial decision making, disaster management and human addiction.
A major challenge in this area is to build genuine understanding and common working practices across all subjects. By assembling a team from Mathematics, Statistics, Computer Science, Psychology, Economics, Earth Sciences, Geography, Neurology, Education and Biology, the project hopes to create a common language and greater understanding which will result in a new and sustainable community of decision making researchers.
Professor Iain D. Gilchrist, Project Co-Director, School of Experimental Psychology said: "This grant is a transformational opportunity to bring together researchers from across the University with an interest in decision making. We will be also be using the grant to explore new ways to develop and sustain inter-disciplinary working across the mathematical, physical and social sciences."
Dr David Leslie, Project Co-Director, School of Mathematics said: "We are very excited about the prospect of combining mathematical theories of optimal decision-making with experimental insights into how people actually make decisions. This will allow us to develop practical insights into real-world decision-making in unstable environments, which will in turn help us to develop more effective artificial decision-makers."
The EPSRC grant will allow recruitment of two post-doctoral research associates and five PhD students, each with a fully-funded four-year scholarship. All seven researchers will be located in a newly-refurbished dedicated space within the social sciences zone of the University of Bristol.
In addition, the project will host an extensive visiting speaker programme, and the team will carry out frequent activities to ensure successful cross-disciplinary collaboration and maximise the impact of the research.