View all news
Can philosophy make you happy?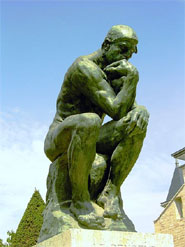 Press release issued: 18 March 2011
Does a degree in philosophy prepare students for employment? How does philosophy contribute to culture and can it help us to be happy? These and other questions will be addressed by a panel of philosophers at a forum in Bristol on Monday 21 March, co-organised by the University of Bristol and the University of the West of England (UWE).
Entitled Philosophy Matters, the annual Royal Institute of Philosophy event is open to all and the organisers hope to see members of the public, school and college students, local politicians and the media take part in the forum.
Speakers include Professor AC Grayling (Birkbeck College, University of London), Professor Baroness Onora O'Neill (House of Lords and the University of Cambridge), Professor James Ladyman (University of Bristol), and Dr Havi Carel (UWE Bristol). Chairing the meeting will be Dr Julian Baggini, editor-in-chief of The Philosophers' Magazine.
The speakers will also address questions such as 'Why study philosophy?' and 'Is philosophy valuable to those in society who don't engage with it directly?'
Professor Grayling said: "Philosophy matters because life has to be lived reflectively, and philosophy is reflection on life, together with a training in how to reflect and an education in the best such reflection from the great traditions of thought. As this shows, philosophy lies at the heart of endeavour to live wisely and well."
UWE Philosophy lecturer Dr Havi Carel said: "At a time of cutbacks, it is in the national interest to debate the cost and value of higher education. In particular, the value of humanities and other non-vocational subjects has been questioned, and reduced simply to its economic and social impact. UWE decided to set up an event to address these issues.
"The philosophy departments of UWE and the University of Bristol have joined forces with the Royal Institute of Philosophy to host a discussion that goes beyond the economics of higher education and says clearly, Philosophy matters in individual and public life. The event will be free and is open to all."
Professor James Ladyman of the University of Bristol said: "The panel will consider the narrow economic value of philosophy, and also consider whether ideals nurtured by philosophy such as those of free, democratic and open thought and critical reflection, are essential components of a free society. The discussion will examine the contribution philosophy has brought to society, question the view of the Browne report that higher education is a private good aimed solely at increasing the earning power of the individual, and provide concrete examples of ways in which philosophical and critical thinking contribute to our society."
Philosophy Matters takes place on Monday 21 March 2011 from 6-8pm in the Great Hall, Wills Memorial Building, Queen's Road, Bristol. It is free and all are welcome, but booking is required at Philosophy.Matters@uwe.ac.uk
The event is funded by the Royal Institute of Philosophy, the Arts and Humanities Research Council (AHRC), UWE and the University of Bristol.