View all news
Calling all rabbit owners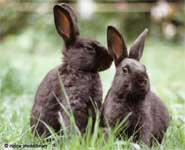 Press release issued: 9 March 2011
Academics in the University of Bristol's School of Veterinary Sciences are asking for rabbit owners to take part in a new research study on how pet rabbits are kept in the UK by completing an online questionnaire.
The study by academics at the University of Bristol's School of Veterinary Sciences aims to find out about the different ways rabbits are cared for in the UK and discover what is most important to rabbits in order for them to lead healthy and happy lives.
With around one million rabbits in the UK, they are the third most popular pet, after dogs and cats. The biology and behaviour of pet rabbits is very similar to that of wild rabbits, yet amazingly, rabbits are still considered 'exotic' pets by vets.
Dr Emily Blackwell, Dogs Trust Lecturer in Canine Behaviour and Welfare in the School of Veterinary Sciences, who is a member of the research team, said: "We are keen to hear from rabbit owners about all aspects of their rabbit's life as very little is currently known about the way pet rabbits are kept in the UK.
"We want to know where rabbits live, how they behave, what they eat and how healthy they are, as well as how they interact with their owners."
By completing the survey, participants will also be given the opportunity to win £100.
To complete the survey go to www.survey.bris.ac.uk/awb/rabbitsurvey
For more information about the survey, contact Nicola Rooney on tel 0117 928 9469.