View all news
Watershed screening for 'Jake' documentary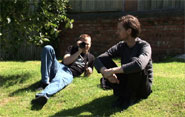 Press release issued: 28 March 2011
A documentary film made by six alumni of Bristol's MA in Film and Television Production will been shown for the first time in the UK at a preview screening at Watershed on Wednesday 30 March at 17:50.
Jake, not finished yet
, the second feature documentary by award-winning director, Ian Thomas Ash, former post-graduate student at Bristol, tells the story of Jake, a young boy in North Wales, over the four years following his mother's death after battling drug-addiction. Early in the film, Jake asks for his own camera, but when he unexpectedly turns it on the filmmakers, the boundaries between filmmaker and subject become blurred. In recognition of Jake's contribution to the film, Ash shares a directing credit with him.
Executive Producer/Cinematographer, Colin O'Neill, a Tutor on the MA in Film and Television Production course for 27 years, and Ash also collaborated on the feature documentary the ballad of vicki and jake (2006). That film, shot in Bristol, won the 2006 Prix du Canton Vaud (Best First Film) at the Visions Du Reel International Documentary Film Festival in Switzerland.
Due to recent events in Japan, the film's director, Ian Thomas Ash, who lives in Tokyo, is unable to attend the UK premiere. However, he hopes to take part in a Q&A discussion from Tokyo via Skype, after the screening.
Tickets are available through Watershed box office.
Upcoming screenings of Jake, not finished yet also include April 1, 2 and 3 at the Brotfabrik Cinema in Berlin, and April 4, 5 and 6 at the Werkstatt Cinema in Munich.