View all news
A place filled with opportunity: Q&A with Mckenzie-Kohl Tuckett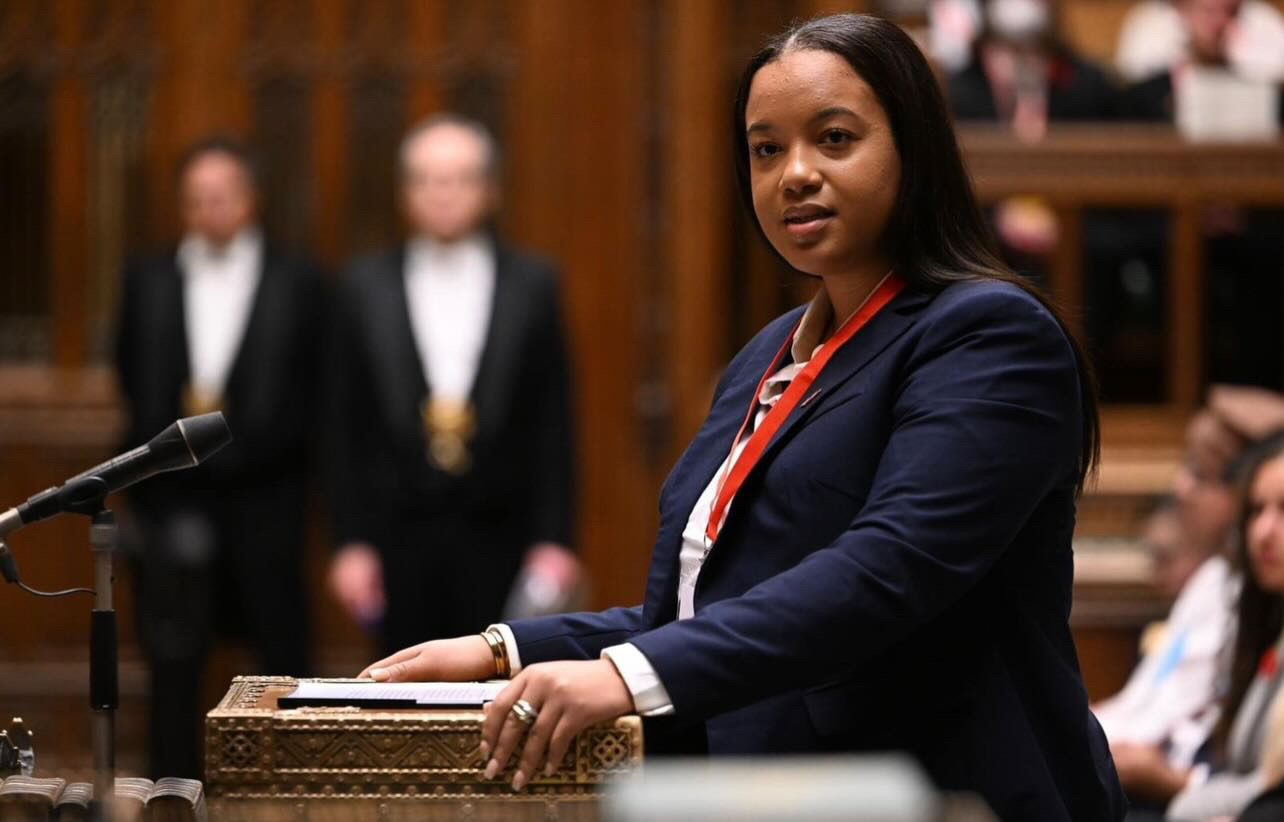 15 July 2023
For World Youth Skills Day, we caught up with accomplished public speaker McKenzie-Kohl Tuckett, second-year LLB student and the first-ever Bermudian to give a speech at the House of Commons. In this Q&A she shared her thoughts on studying Law at Bristol, being awarded the International Intern Scholar Scheme prize, representing Bermuda's Youth Parliament, and her top tips for confidence in public speaking.
What motivated you to start engaging in public speaking, and what extra-curricular activities are you involved in?
When I was younger and first established my interest in studying law, I researched the key skills which any law student should develop. One of the most important was communication skills, through public speaking and debate. Soon after, I joined my high school teams and I've loved it ever since.
I am an avid public speaker and debater. I debate with the University of Bristol Law Club (UBLC) and the Bristol Debating Union (BDU). Last year, I won the UBLC's First Year Debate Competition and this year I travelled to Bulgaria to compete with the BDU. Most recently, I was invited to represent Bermuda and address the House of Commons. I've had very rewarding experiences as a public speaker and debater.
Tell us about your experience giving a speech on behalf of Bermuda's Youth Parliament at the House of Commons last November.
The speaker of the House of Assembly in Bermuda nominated me to represent the island at the Annual Sitting of Youth Parliament in the UK. As former Youth Premier of Bermuda's Youth Parliament, I was humbled and excited to participate.
For the first time in history, all British Overseas Territories were invited to put forth a youth representative to speak to the most pressing issues facing the young people in our respective Territories. I chose to discuss the mass exodus of Bermudians, due to a lack of opportunity on island, with particular emphasis on the importance of returning to the island post-University.
It's a day I will never forget. It was such an honour to be the first Bermudian to speak in the House of Commons. I am grateful to have had the opportunity and I thoroughly enjoyed the experience.
You recently hosted a workshop on confidence in public speaking. What are your top tips?
My public speaking workshop with the Women in Leadership society, in celebration of International Women's Day, was centred around my top tips for becoming a confident public speaker. My tips for being comfortable with public speaking focused on passion, persuasion, and purpose.
It is important to evoke passion, which is brewed organically when you choose a topic that you are interested in and passionate about. Equally, it is good to focus on individual persuasive techniques in order to captivate your audience.
Often overlooked is the purpose behind your speech. Make sure that you are writing in accordance with what you set out to accomplish with your speech, whether that be educating your audience or simply encouraging and evoking thought and reflection.
Congratulations on winning the International Internship Scholar Scheme prize earlier this year! What does it mean to you to receive it?
It is an honour to be awarded the International Intern Scholar Award. I believe that the Scheme is a great initiative which encourages students to think globally and it feels great to be recognized by the Law School for the legal experience that I have gained in diverse jurisdictions.
What made you decide to apply to the LLB Law degree at Bristol?
The University of Bristol has always been my top choice university. Bristol consistently ranks in the UK's top ten universities and the world's top one hundred universities. As an international student from Bermuda, in addition to looking for a friendly city campus, I wanted a place that was filled with opportunity - both during and after my studies. The University just has so much to offer.
What is your favourite part of the course?
I think it's incredible to be studying using a range of academic works written by our lecturers. It's a unique opportunity to be able to go to class and question the author's thinking directly.
What is your favourite part about living in Bristol?
I love that Bristol is such a student-friendly city.
What advice would you give to prospective students?
I would suggest that prospective students start exploring the multitude of opportunities available as soon as they decide on Bristol. Because there is so much on offer, you want to make sure that you never miss out on an opportunity because you didn't know about it.
What do you plan to do once you have graduate?
When I graduate, I will go on to do my SQE prior to returning home to Bermuda to complete my legal training. Once called to the bar, I look forward to a rewarding career in law. I also have political aspirations.