View all news
Don't be afraid to try new things: Q&A with LLB student Lee Ling Chu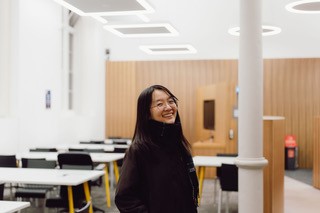 3 May 2023
Final-year Undergraduate Law student Lee Ling Chu was recognised for legal work experience undertaken overseas at the Law School's International Internship Scheme Scholar (IISS) awards earlier this year. We caught up with her in a Q&A about her studies, her extra-curricular activities – including starting a business and entering the New Enterprise Competition – and her favourite things about Bristol.
First of all, congratulations on winning the IISS prize. What does it mean to you to receive it?
Winning this prize for the second year in a row is an immense honor for me. It acknowledges the hard work and dedication I put into my summer internships, and it shows appreciation for students who are constantly striving to improve their legal skills, knowledge, and career prospects. The legal industry is highly competitive, with many entry-level positions going unpaid or offering wages below minimum. Receiving this prize, with its accompanying financial aid, means I can focus even more on my personal and professional growth. I am truly grateful for this recognition. 
What made you decide to apply to the LLB Law degree at Bristol?
I chose to apply to the LLB Law degree at Bristol because of its small seminar groups. This was important to me because I wanted to make sure I would have the opportunity to ask questions during class and not lose interest or forget about them afterwards. The smaller group size helps me stay engaged with the material I am learning.
What is your favourite part of the course?
My favourite part of the course are the supportive tutors. Their support has contributed to my increased attendance and made my academic experience much more enjoyable.
What is your favourite part about living in Bristol?
My favourite part about living in Bristol is the atmosphere. The city offers a great balance between peaceful, quiet living and exciting city life. There are parks, golf courses, boba tea shops, kebab shops for a late night snack, and hills to climb. It's an interesting place to live!
What extra-curricular activities are you involved in?
I have been actively involved in several extra-curricular activities in the past two years. I have been a language cafe volunteer, a BME Success Advocate (which I am particularly proud of), the South West Regional Chairperson of the United Kingdom and Eire Council for Malaysian Students, a waitress, and an Amazon warehouse associate.
This year, I am focusing more on my interests, so my weekends are filled with swimming lessons on Fridays, chess club on Saturdays, and volunteering with Barrows on Sundays. I also attend the anime and fantasy club if I am interested in the movie they are playing.
I am also starting a small business called PRIOT and hoping to win the INVICTUS Challenge and New Enterprise Competition with it. PRIOT is a business that specializes in selling personal Near-Field Communication (NFC) networking technology to both companies and individuals. Our range of products includes personal NFC hardware and services. We initially started by selling tailor-made PVC NFC business cards on eBay for £10, but we are now looking to expand our range of products and services. At this point, we are searching for a trusted supplier to outsource our production. Before doing so, I aim to secure additional funding through the INVICTUS Challenge and the New Enterprise Competition.
What do you plan to do once you have graduate?
Upon graduation, if all goes as planned, I plan to take the Bar examination the following year. My objective is to attain financial independence and become a successful commercial barrister. 
What advice would you give to prospective students?
My advice to prospective students is to not be afraid to try new things. I have lost and failed in 15 rounds of moot competitions. I have made mistakes and procrastinated. I am not a winner but I don't regret any of it. So go ahead and try new things, even if they don't result in success right away. And don't forget to bring a raincoat!