View all news
University of Bristol Law School partner with BPP's Bridge Programme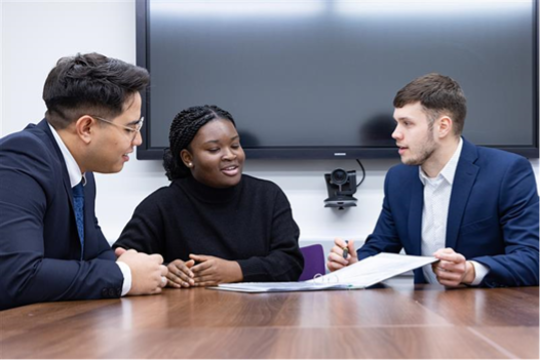 16 June 2023
The University of Bristol Law School will be partnering with BPP University Law School's Bridge Programme, a free career development course to help aspiring solicitors and barristers prepare for their future careers.
BPP's Bridge Programme launched in 2021 and comprises a range of online modules which students undertake alongside undergraduate studies, to bridge the gap between their degree and the next stage of legal training.
The Bridge consists of two programmes that students can choose between, to align to their career aspirations:
'Bridge to the SQE' for prospective Solicitors, which includes modules such as Navigating the SQE, Virtual Vacation Schemes, and an Introduction to Legal Technology; and
'Bridge to the Bar' which includes Preparing for the BTC, a Virtual Mini Pupillage and an Advocacy Masterclass for aspiring Barristers.
Students who complete at least half of the relevant Bridge Programme have the chance of being awarded a BPP scholarship, which is provided by way of a course-fee reduction against the cost of BPP's Law Conversion Course, LPC, SQE, BTC or any of the related Master's programmes.
For each year of the partnership, BPP has committed to awarding a student from the University of Bristol a £5,000 Social Mobility scholarship plus up to three further £2,000 awards. All students who complete the Bridge will be awarded a Certificate of Completion.
Professor Ken Oliphant, Head of the University of Bristol Law School, said:
"Law Schools have to move with the times. The SQE changes the route to qualification for solicitors and we have to make sure that our students are properly equipped to follow the new pathway.
"Our Bridge Partnership with BPP does just that, while reinforcing our efforts to promote greater diversity in the legal profession through the award of new Social Mobility Scholarships to support the career ambitions of our students who come from disadvantaged backgrounds. It's an exciting new venture!"
Jonny Hurst, Head of Outreach and Law Marketing lead at BPP University Law School, said:
"BPP is delighted to be partnering with an institution as prestigious as the University of Bristol, many of whose alumni have trained at our centres in London, Bristol and around the country before becoming solicitors and barristers at top law firms and chambers.
"The content-rich Bridge Programme will undoubtably enhance the knowledge, skills and confidence of the next generation of Bristol graduates as they start to navigate the legal profession.
"My colleagues at BPP and I look forward to meeting and teaching many more of them along the way."
Further information
BPP University Law School is part of the BPP Group and is a distinct legal entity with its own degree-awarding powers. Since its commencement in the Autumn of 2021, over 2000 prospective solicitors and barristers students have registered on BPP's Bridge Programme.

Routes to qualification for law: Law degrees at Bristol are based around the 'seven foundations of legal knowledge', providing you with the necessary skills to take the next step in your legal career, whether that is to become a solicitor, barrister or something else entirely.

Learning alongside world-renowned academics will get you noticed by top international law firms - with the knowledge and skills to articulate and critique how the law can tackle some of society's biggest challenges.