5GCity: A Distributed Cloud & Radio Platform for 5G Neutral Host
Goals
The main goal of 5GCity was to maximise the investment return for the digital market chain i.e. citizens, innovative small and medium enterprises (SME), industry vertical (medica companies), telecom & service providers, and municipalities.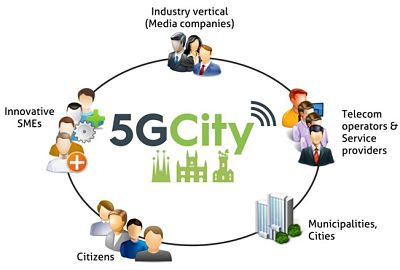 To build, deploy and demonstrate a city-wide open and multi-tenant platform in the cities of Bristol (UK), Barcelona (Spain) and Lucca (Italy).
The proposed platform extended the centralised cloud model to the extreme edge of the network to enhance the state-of-the-art by solving some main technical and research challenges in the 5G-based edge virtualisation domain, e.g. neutral host perspective, and city-wide dense deployments for media industry and city services.
To demonstrate and study the impact of the resulted platform (3 groups of use cases were designed and deployed in a city-wide infrastructure).
Expected impact
The real strength of 5GCity (in terms of real-world impact) lied in the envisioned deployment of its 5G-based edge platform in real Smart City infrastructures by running realistic use cases for neutral host, media industry, and for unauthorised wasted dumping prevention. This was foreseen as a concrete first step towards 5G trials with 3 additonal impacts for the industry:
Creation of open environments for new network apps
Creation of an open repository for apps that may be validated and leveraged by 3rd party developers
Validation of virtualised network functions capability of the proposed environment.
Project team
Principal Investigator:
Co-ordinator:
Contact:
Project support:
Programme Overview: