View all news
Bristol Composites Institute celebrates February 2023 graduates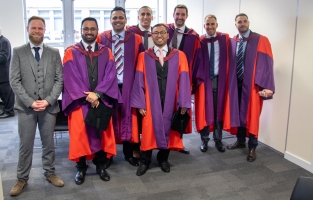 13 March 2023
The Bristol Composites Institute, EPSRC Centre for Doctoral Training (CDT) in Advanced Composites for Innovation and Science and the Industrial Doctorate Centre (IDC) in Composites Manufacture celebrate the success of their recent graduates.
Bristol Composites Institute celebrated 11 graduates at the recent graduation ceremony which took place on Thursday 16 February. Academic supervisors and family members watched as the students were conferred their degrees in the ceremony held in the Wills Memorial Building. Before the ceremony, the wider BCI gathered to celebrate the graduates in Senate House who were presented with a BCI branded Bristol Blue Glass paperweight.
The event was also an opportunity for the BCI directors to congratulate the graduates personally.
Professor Stephen Hallett, BCI Co-director said "It was great to have our PhD and EngD graduands join friends, colleagues and families to celebrate their success and hear about their exciting future career plans."
In alphabetical order, the list of PhD graduates is provided below:
Harry Barnard (IDC)
Thesis title:

On the Assessment of Design Tools for Thick-Walled, Thermoplastic Composite Pipe
Paul Forna-Kreutzer (CDT)
Thesis title:

Investigation of the High-temperature Mechanical Behaviour of Oxide-oxide Ceramic-matrix Composites
Riccardo Manno (CDT)

Thesis title:

Micro-scale Analysis of Progressive Damage in Ceramic Matrix Composites
James McArdle
Thesis title: Performing Digital Image Correlation (DIC) Based Experimental Activities on Composite Processing Scenarios
Hernaldo Mendova-Nava (CDT)
Thesis title: Bioinspired Nonlinear Structures: Elastic Instabilities and Sound Production
Imad Ouachan (CDT)
Thesis title: Functional MOF/ Polymer Nanocomposites with Improved Processability for Sustainable Energy Applications
Chiara Petrillo (CDT)
Thesis title: Functional MOF/ Polymer Nanocomposites with Improved Processability for Sustainable Energy Applications
Usman Sikander (CDT)
Thesis title: Plasma Surface Modification of UHMWPE Fibres and its Effects on Adhesion and Wettability
Aristeidis Tsiamis
Thesis title: Formulation, Characterisation, and Development of Cyanate Ester High Temperature Nanocomposite Polymer Matrices for Aerospace Applications
Jibran Yousafzai
Thesis title: Prediction of Fire Behaviour for Amine Cured Epoxy Resin Systems based on Molecular Structure
Petar Zivkovic (IDC)
Thesis title: Improvements and Innovations in Automated Fibre Placement