View all news
Composites CDT and MSc students visit the National Composites Centre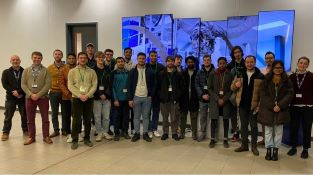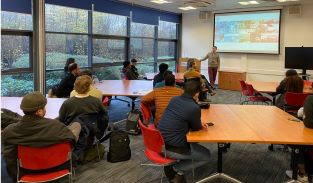 12 December 2022
This engagement day provided students with a tour of the facilities, presentations, and a chance to mix with fellow student cohorts.
First year PhD students from the EPSRC Centre for Doctoral Training in Composites Science, Engineering and Manufacturing (CoSEM CDT) joined the new intake of MSc Advanced Composites students for a site visit of the National Composites Centre on Wednesday 30 November 2022.
During the event, Matt Scott, the NCC's Chief Engineer for Capability, introduced the importance of composites research and the NCC's key role to bridge academia and industry, as well as the previous and current collaborative research projects between the Bristol Composites Institute and the NCC. Micaela Owen, the Head of Workforce Transformation, introduced the NCC's internship and graduate schemes, which offer a great opportunity for our students to gain practical industrial research experience at the NCC. Ruth Courtney, the Engineering Capability Lead in 3D textiles, outlined her exciting career path from a graduate to Research Engineer at the NCC and the opportunities available to her in the composite industry. After the presentation, our students enjoyed a tour led by Justin Whiting, Early Careers Manager, highlighting the NCC's state-of-the-art composites manufacturing facilities and displaying examples of projects produced at the centre.
The UK has invested heavily in supporting the science and technology of composite materials through the establishment of the National Composites Centre, a wholly owned subsidiary of the University of Bristol. Collaborating with industrial partners and world-leading international expertise researchers from the Bristol Composites Institute will continue to supply a highly skilled workforce and technical leadership to support the composites industry.
Will Mahoney, CDT student, said: "It was a fantastic opportunity to speak to composite material specialists about the ongoing research collaborations and knowledge transfer that are taking place between the BCI and NCC. As a cohort, we are ideally situated as part of the BCI to access the world-leading facilities, equipment and accomplished experts at the NCC. These resources will be a great aid when we begin our PhDs and further into our careers."
---
More Bristol Composites Institute news.
Return to Bristol Composites Institute homepage.
Return to EPSRC Centre for Doctoral Training in Composites Science, Engineering and Manufacturing homepage.
Further information
The CoSEM CDT (established in 2019) has evolved from the highly successful and established ACCIS CDT (2014-2024) to address exciting doctoral training opportunities for multidisciplinary composite materials engineering and manufacture.
The 12-month MSc Advanced Composites programme provides an in-depth theoretical understanding and practical knowledge of advanced composites. It is a great career development route for students with engineering or non-engineering backgrounds to develop and expand their expertise in composites engineering. The start date is in September with applications being accepted from October until all places are filled. Early application is advised to avoid disappointment due to high demand.