View all news
Bristol Composites Institute at Glastonbury Festival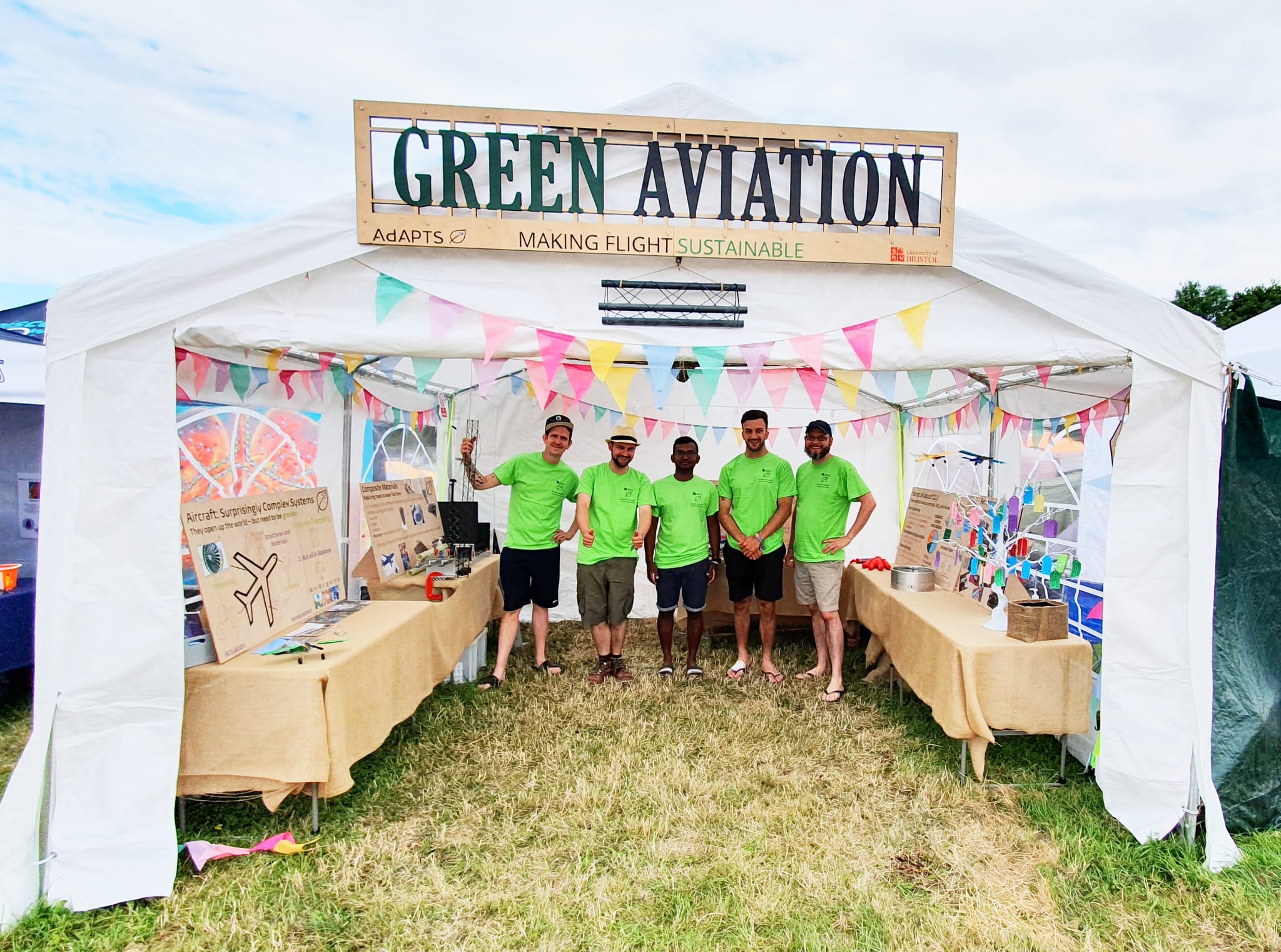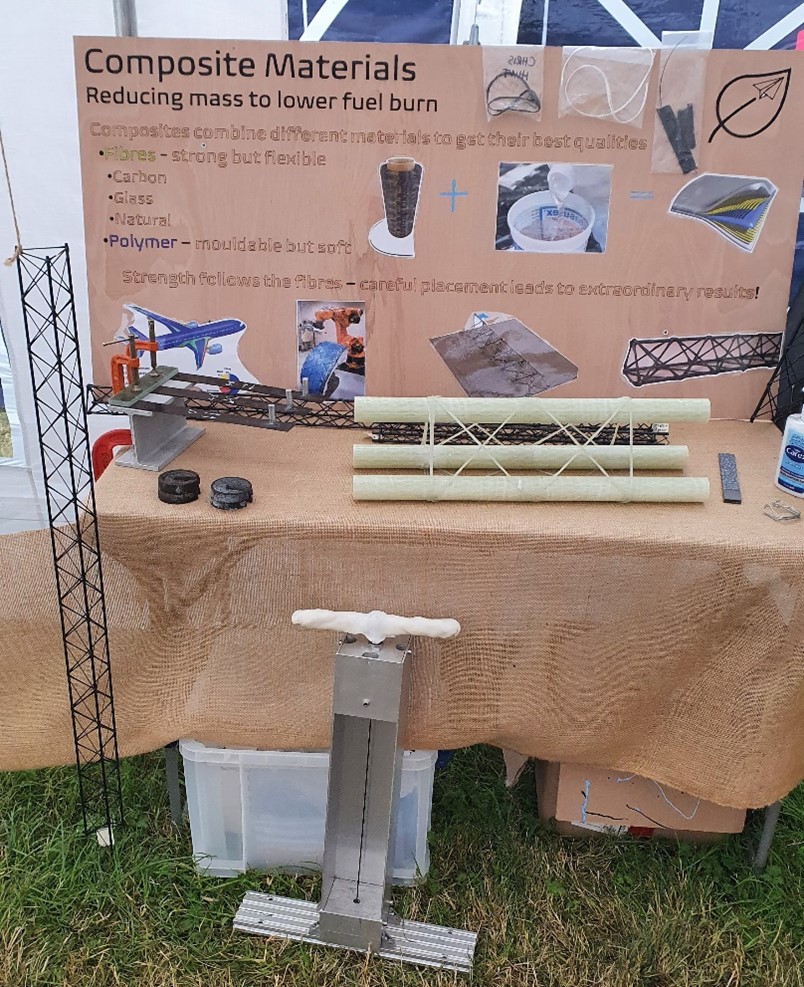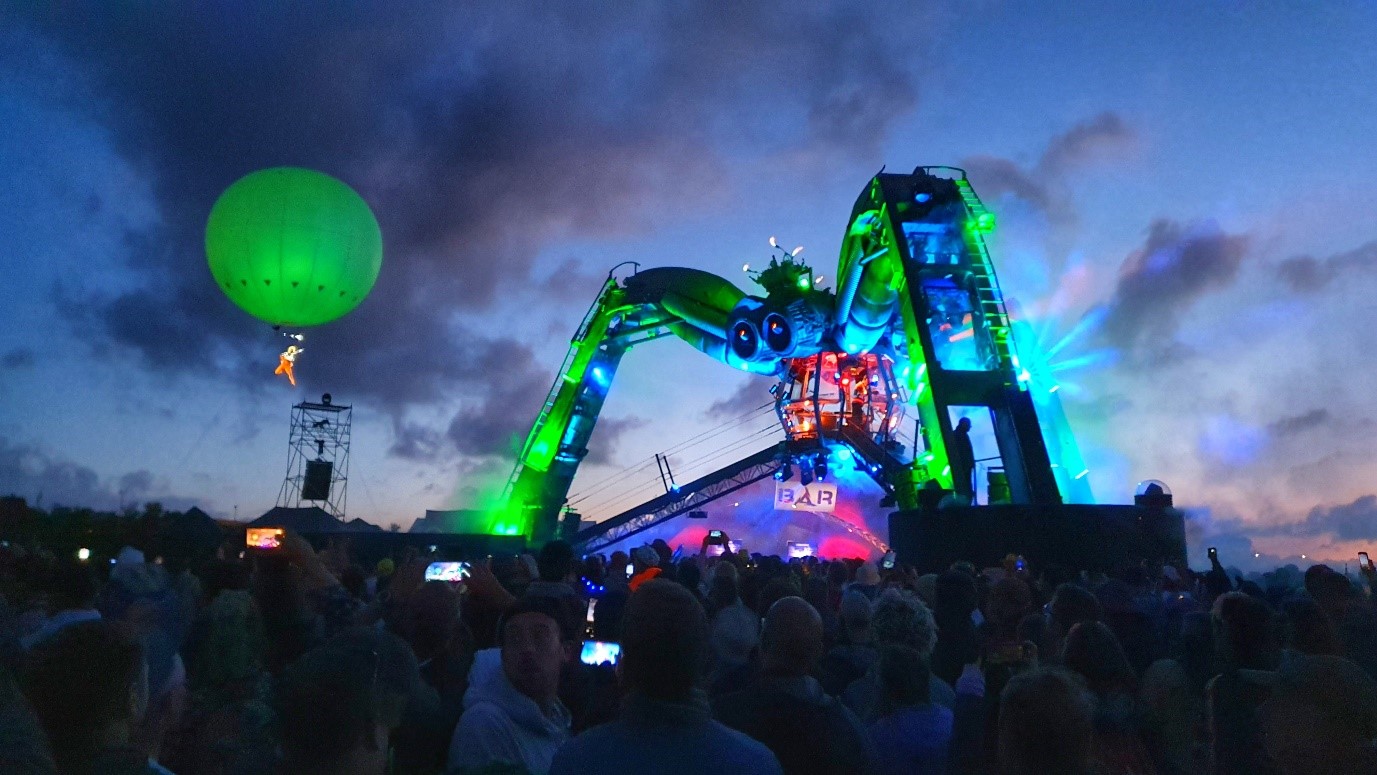 12 August 2022
A group of 5 researchers and academics from the Bristol Composites Institute and Bristol Department of Aerospace Engineering recently attended the 2022 Glastonbury Festival led by Dr Benjamin Woods.
Due to pandemic cancellations, this was the first Glastonbury in 3 years, and it was also the 50th Glastonbury ever, which lined up nicely with the 75th anniversary of the Department of Aerospace Engineering. But while there were quite a few reasons to celebrate – this festival trip was all about outreach. The group spent their days talking to members of the public about the exciting Green Aviation research going on at Bristol. They set up a marquee in the brand new Science Futures area of the festival, and filled it with hands-on technology demonstrators, laser cut plywood posters, and smiling faces in brightly coloured t-shirts.
The stall featured a series of posters and demos that reflected the diverse, multi-disciplinary work required to make sustainable air transport a reality. This started with a discussion of the multidisciplinary nature of modern commercial aircraft design, which requires us to make improvements to all aspects of aircraft design. After this, the ability of composite materials to reduce fuel burn by reducing mass was shown, highlighting both the incredible progress made to date and a range promising new concepts under development at BCI. This was followed by a table focusing on the ability of aerodynamic improvements to reduce fuel burn – which showed a number of new morphing wing technologies which take inspiration from birds to continuously adapt and optimise their wings. The next poster highlighted the importance of also reducing non-CO2 emissions, including contrails, NOx and noise. The final table included a celebration of the 75th anniversary of the Bristol Department of Aerospace Engineering and a wishing tree where the public were invited to share their visions of a more sustainable future for aviation.
The response from the public was fantastic: the stall was busy throughout the duration and hundreds of engaging conversations were had around the challenging topic of how we can make aviation more sustainable. The wide range of people who attend Glastonbury kept things exciting – visitors spanned the gamut from people who hadn't flown in over a decade because of the climate impact to people who make their living in the aviation industry – with the discussions had and messages delivered being adapted accordingly.
The team, led by Dr. Benjamin Woods, camped out behind the stall and had plenty of time to explore the festival and watch acts in the evenings – including an electronic music set from a giant fire breathing, laser eyed, spider stage, complete with a trapeze artist floating by beneath a giant helium balloon: which is slightly beyond our day-to-day experiences at the Bristol Composites Institute!
Further information
This activity was supported by the EPSRC funded Early Career Fellowship 'Adaptive Aerostructures for Power and Transportation Sustainability (AdAPTS - funder reference EP/T008083/1)'