View all news
Bristol behind world's massive egocentric dataset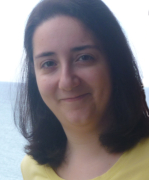 14 October 2021
Professor Dima Damen and her group in computer vision are part of an international consortium of 13 universities in partnership with Facebook AI that has built the world's most diverse egocentric dataset - officially released 14th October.
The Egocentric 4D Live Perception (Ego4D) is a massive-scale dataset that compiles 3025 hours of footage from the wearable cameras of 855 participants in nine countries: UK, India, Japan, Singapore, KSA, Colombia, Rwanda, Italy and the US. The ambitious project was inspired by the University of Bristol's successful EPIC-KITCHENS dataset, which recorded the daily kitchen activities of participants in their homes and has been, until now, the largest dataset in egocentric computer vision.

Ego4D captures a wider range of activities (such as practicing a musical instrument, gardening, grooming a pet or assembling furniture), all from the egocentric perspective: the viewpoint of the person carrying out the activity. Visit the Ego4D website to learn more about this fascinating project.

The Ego4D Team at Bristol included: Michael Wray, Will Price, Jonathan Munro, Adriano Fragomeni and is led by Dima Damen.