View all news
Professor Dimitra Simeonidou joins new government task force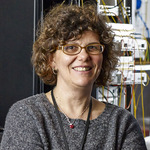 Press release issued: 23 September 2020
Professor Dimitra Simeonidou (Director of Smart Internet Lab and Bristol Digital Futures Institute) will join industry and academic leaders on a task force to advise on bold interventions to open up and grow the British telecoms market
The new task force will drive forward ongoing work to diversify the UK's telecoms supply chain and reduce reliance on high-risk vendors. The UK Government is keen to address a market failure where mobile companies are limited to using just three major suppliers in their telecoms networks. This limitation restricts choice and poses a risk for the security and resilience of the UK's future digital networks.
The Telecoms Diversification Task Force will provide independent expert advice to the government. It will inform the development and implementation of the forthcoming Telecoms Diversification Strategy. A document which will set out the key areas for boosting competition and innovation in the UK market by building an open, sustainable and diverse telecoms supply chain.
This follows the government's commitment, informed by advice from the National Cyber Security Centre, to ban the use of new Huawei 5G equipment from the end of this year, and remove all existing Huawei kit from 5G networks by 2027.
As Professor of High Performance Networks Dimitra's work on programmable networks, wireless-optical convergence, 5G/B5G and smart city infrastructures will inform her contribution to the task force. So too will her collaborations with Social Sciences and Humanities on inclusive and prosperous societies and her work as the Technical Architect and the CTO of the smart city project "Bristol Is Open". She is currently leading the Bristol City/Region 5G urban pilots.
The full task force membership includes:
Lord Ian Livingston of Parkhead (chair)
Rosalind Singleton, Chair of UK5G Advisory Board
Clive Selley, CEO, Openreach
Scott Petty, CTO, Vodafone UK
David Rogers, CEO, Copper Horse
Professor Rahim Tafazolli, Head of Institute of Communication Systems, University of Surrey
Professor Dimitra Simeonidou, Professor of High Performance Networks, University of Bristol
Dr Scott Steedman, Director of Standards, British Standards Institute
Dr Ian Levy, Technical Director of NCSC and Simon Saunders, Director of Emerging Technology at Ofcom will also be available to the task force to provide technical advice.