Work with us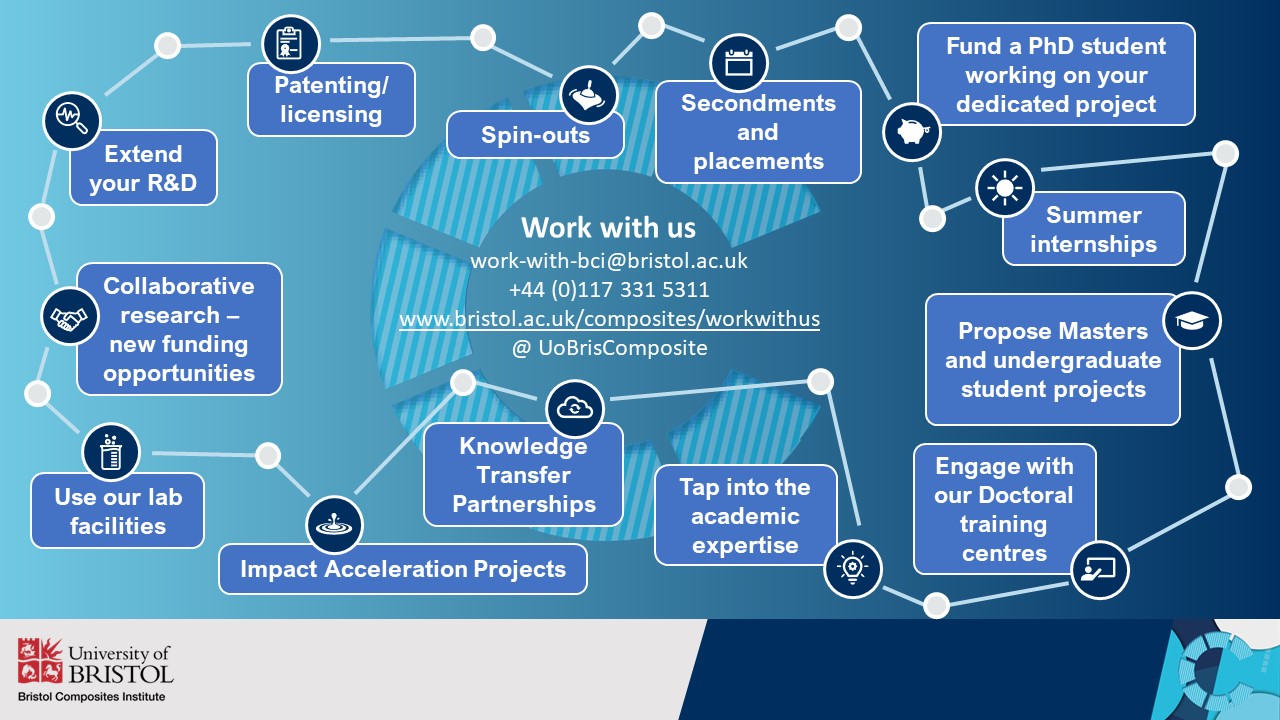 There are multiple ways to engage with Bristol Composites Institute; the most frequent ones are covered on the infographic above and in the details below.
If you cannot find the information you are looking for, email us with the information you are after and we'll put you in touch with the most relevant person.
If you have ideas about other collaboration opportunities, get in touch.
Secondments and placements
Secondment projects between a couple of weeks and 12 months in duration are available for companies to embed a researcher in the organisation or to second someone into the university. For longer durations, check our Knowledge Transfer Partnerships (KTP).
Our Master's programmes with a year placement in industry offer well-trained engineers for companies and employability skills for students.
Fund a PhD student working on your dedicated project
Our Centre for Doctoral Training works with several industrial partners on building a portfolio of projects that the PhD students can choose from. We are always looking for new challenges; get in touch if you are interested in being involved.
There are opportunities for funding a PhD student outside of the Centre for Doctoral Training. These PhD programmes take 3 years full-time or 6 years part-time. If you have an interesting project idea to be delivered by a PhD student, let us know about it.
We offer opportunities for even closer involvement of the doctorate students in the company's project via the EngD programme. This 4-year programme operated by the Industrial Doctorate Centre is open as well for project ideas and engagement with industry.
Propose Masters and undergraduate student projects
A number of

Undergraduate Degree programmes

have content relating to composite materials. The

MEng in Aerospace Engineering

has optional units in Composites Design and Manufacture and Advanced Composites Analysis.
The

MSc in Advanced Composites programme

is a one-year full-time course that allows you to acquire an in-depth theoretical understanding and practical knowledge of advanced composite materials through taught (core and optional) units and a research project. You can apply via the

postgraduate programme finder

.
Both our undergraduate and Masters students work on specific projects. We welcome project proposals from the industry so our students can work on real issues that are related to their studies and develop solutions that are valuable for the industry. Get in touch with us if you'd like to find out more about how to secure an MSc student working on your project.
Engage with our Doctoral training centres
There are currently two Doctoral Training Centres operating within Bristol Composites Institute:
Tap into academic expertise
Bristol Composites Institute is growing all the time and we have a large group of world-class academic staff, as well as many excellent researchers, postgraduate students and affiliates. If you would like to tap into their expertise in the form of direct consultancy, you can get in touch with them directly or via our main email account.
Knowledge Transfer Partnerships
Knowledge Transfer Partnerships offer a fantastic opportunity for industry to host a researcher at their premises for the delivery of a 1-3 year technical project. The benefit for the company is to have a well trained researcher with supervision provided by the academic supervisors and other researchers at the university via a part-funded scheme.
Impact Acceleration Projects
There are multiple Impact Acceleration funding opportunities available to support the collaboration of industry and academia. If you are interested, please get in touch with our Research commercialising team.
Use our lab facilities
The Faculty of Engineering that hosts the Institute is home to world-class lab facilities enabling the integration of engineering theory and experiment.
Collaborative research – new funding opportunities
There are regularly new funding opportunities coming up for collaborative research. Have a look at the summary of funding sources as well as who to contact for further support.
Extend your R&D
Not having the necessary resources in-house can be a show-stopper. We have the knowledge and expertise to explore and find solutions to a wide range of challenges, and the experience to build and maintain flourishing relationships with the industry. Get in touch with us!
Patenting/licensing
The University is keen to promote technology transfer by licensing IP to third parties. We have several technologies which are currently available for licensing.
Spin-outs
There are several spin-out companies that started their work based on our research. We are interested to hear about individuals or companies who invest in early-stage companies.