View all news
Making a difference: COVID-19 and population science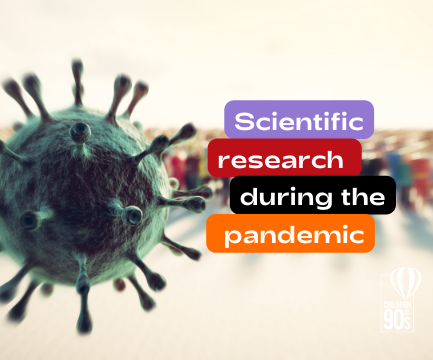 8 March 2022
Principal Investigator, Professor Nic Timpson, starts the #Co90sDiscoveries series by discussing how the study has assisted with the global response to the COVID-19 pandemic.
‌‌Data from thousands of our participants contributed to rapid and responsive studies investigating the impact of COVID-19 as the pandemic unfolded, providing vital evidence that has directly shaped government policy and public practice.
---
For 30 years and counting, the Children of the 90s birth cohort study has amassed one of the world's most detailed collections of health and biological data. Thanks to the generosity and commitment of more than 30,000 participants, researchers across the world are learning how our genes and environment affect health and wellbeing. As a scientific resource, the study has been important in revealing how COVID-19 has impacted everything from social inequality to children's behaviour.
Understanding disease in real time
Gathering data, while measuring and collecting information and biological samples throughout the pandemic has been key to learning about the biology and consequences of COVID-19. Whilst it is possible to do this in bespoke studies that started in response to the emergence of the virus, these studies don't have access to existing data and samples in the same way as Children of the 90s, to help us understand who might be impacted by infection and the mitigation measures.
"The pandemic has been a graphic illustration of just how important population-based research is," says Principal Investigator Professor Nic Timpson.
"There's no other study quite like this, in terms of the depth of data and the amount of time that it's been running, and the direct impact our findings have on public understanding and policy. One of the key features of the work we've done around COVID-19 is that it's been rapid and responsive, and we've repeated some of the tests we've done so that we can map changes in real time."
COVID-19 in numbers
During the pandemic, our 30-year-old participants, along with their parents and partners completed multiple questionnaires, attended clinics to study immunity and carried out antibody tests at home. Their involvement gave us valuable insights that have directly informed public health policy.
We collected 38,100 responses to five questionnaires, 3,000 responses allowing assessment of public behaviour around Christmas 2021, and more than 9,000 antibody tests. Our research showed why some people developed severe symptoms with a COVID-19 infection and others did not, how asymptomatic illness played a role in transmission and how the level of immune response changed depending on symptoms and over time.
What did we learn?
Our data revealed that mental health was affected by the events of the pandemic. While the impact was different depending on age, gender, financial circumstances or previous experiences of poor mental health, all generations were affected to some extent.
The impact of the pandemic and mitigation measures was not limited to adults facing the stresses and strains of lockdown. For instance, parents reported seeing a return to terrible twos' style tantrums and emotional patterns of behaviour in their primary school aged children – a sign that measures used to try and control the virus were impacting young children too.
Influencing policy and practice
Our research formed part of the UKRI funded UK Coronavirus Immunology Consortium (UK-CIC) and the CONVALESCENCE study based at University College London, exploring the long-term health effects of COVID-19, or Long COVID. Findings from the study will assist in updating NICE guidelines for doctors and healthcare workers.
We also contributed to seven Health Data Research UK (HDR UK) reports which informed the UK government's Scientific Advisory Group on Emergencies (SAGE) committee, and three contributions to Public Health England (now UKHSA) reports.
Participants also took part in flash surveys feeding data into the Scientific Pandemic Influenza group on Modelling (SPI-M) assessing the impact of voluntary mitigation measures in the winter of 2021-2022. And we published more than ten specific Covid-19 publications, including work on bias in COVID-19 data, inequality, gambling, asthma, eating disorders, child behaviour, risk perception and mental health.
As the Omicron variant emerged, we were able to work with SPI-M members to look at how participants responded to Plan B public health measures and Christmas planning, gathering more than 2,800 responses within three weeks. The subsequent report was circulated to SAGE and the Cabinet Office, and informed the Welsh cabinet's 21-day review of Coronavirus rules.
An evolving legacy
The pandemic shone a light on the pivotal role that birth cohort studies provide, with their immediate access to measurable health data and rapid responses.
Reaffirming Children of the 90s as a study of international importance, this period has allowed us to enhance a legacy of data and samples that will be beneficial in preparing for a future global pandemic such as COVID-19.