Teaching English for Academic Purposes (TEAP)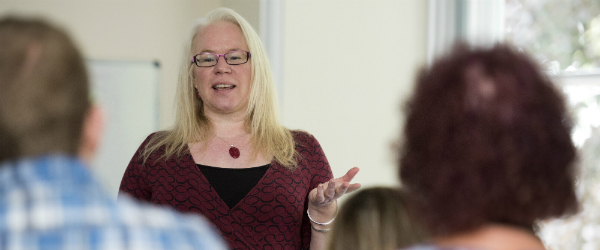 Course under review
We are currently refreshing our TEAP courses to ensure they are fully aligned with the new BALEAP criteria. We will therefore not be offering any TEAP courses in 2023. We will share relaunch details here later in the year.
We usually offer one-week, intensive TEAP courses. However, we will not be running any courses in 2023.
The staff who will deliver these courses have specialist knowledge of TEAP and its portfolio requirements. They will draw on their personal expertise to give you a solid understanding of the relevant TEAP competencies, offering insight into areas such as assessment and feedback.
Among the specialists delivering the course will be at least one of BALEAP's Senior Fellow assessors and a further three people who have been on BALEAP's executive committee, including the officer who oversaw the recent changes to TEAP criteria.
For a full year after the course, you will continue to have access to a wealth of online materials and a community area, where you can maintain contact with a supportive community of TEAP peers.
Dates
We will not be running any courses in 2023.
Location
Our courses usually take place on our Clifton campus in Bristol.
Structure and time commitment
All the courses will consist of both guided independent study and timetabled sessions.
You will have a full day of timetabled sessions every day of the course. In the evenings, you will be required to complete reflective and preparative tasks.
Because these are intensive courses, you will need to commit fully to the week.
Content
The courses will focus on various aspects of the TEAP accreditation competency framework.
Group size
All our TEAP courses will use small-group teaching to maximise discussion between participants and interactions with staff. Groups will be no larger than 20 people.
We will need a minimum of 12 people in order to run each course, and will update applicants regarding a course's feasibility prior to its commencement.
Assessment
These courses will not be assessed and do not lead to TEAP accreditation.
However, participants will receive a certificate of completion and a year's access to the online course resources and community.
How to apply
Applications are currently closed.
We welcome participants from all backgrounds and with a variety of teaching experiences. If you are unsure which level of course to apply for, please take BALEAP's TEAP pathway quiz or email teap-enquiries@bristol.ac.uk.
Accommodation
We are unable to offer any accommodation for our TEAP courses. However, you will find that Bristol has a wealth of hotels, bed-and-breakfasts and other short-term lettings.
Tutors who will be teaching on our summer pre-sessional cannot arrive at their University accommodation early.
Please do not book your accommodation or your travel to Bristol until we have confirmed your course is running.
Costs
We are not running any courses in 2023.
We won't ask you to print or buy any books.
How to apply
Applications are currently closed.