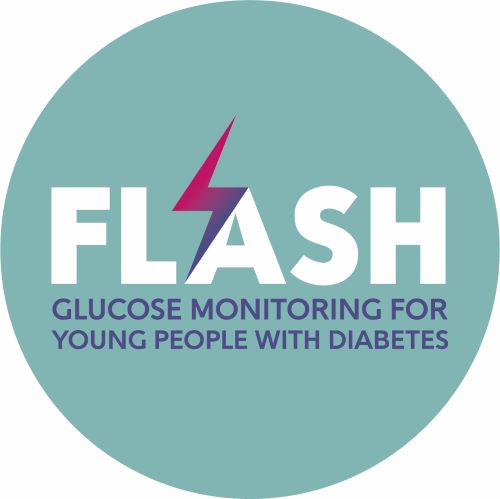 FLASH Study
Glucose monitoring for young people with diabetes
Aim: The aim of the Glucose Monitoring for Young People with Diabetes (FLASH) study is to find out if a new sensor worn on the skin in the upper arm can help children (and young people) manage their type I diabetes.
Background: Type 1 diabetes is the most common form of diabetes in children and young people, occurring when the body does not produce insulin. People with type I diabetes need to inject insulin and monitor their glucose (sugar) levels. For many young people this means painful finger prick blood tests many times a day.
What we plan to do: We want to explore if a new way of monitoring glucose levels called 'flash monitoring' works well. At present only one type of flash monitoring device is made and it is called Freestyle Libre (Libre). This study will find out if Libre helps young people and their parents manage their diabetes better. It will also explore the impact on diabetes services and costs.
How we plan to do this: We would like to speak with children and young people aged 8-18yrs with type 1 diabetes and parents of children aged 5-18 years. 
Does your child use a Freestyle libre glucose monitor?
.… Or have they stopped using one?
….Or did you choose not to take up Freestyle libre? 
 Would you be interested in talking to a researcher for 30-45 minutes about Freestyle libre? ‌
Please email us at flash-study@bristol.ac.uk to find out more
Planned outputs - will be posted here when available:
Academic publication(s)
Local and national dissemination events
Funding: This work is supported by the National Institute for Health Research (NIHR) Research for Patient Benefit 201085.
Ethical approval: The study was approved by the Faculty of Health Sciences Research Ethics Committee at the University of Bristol.
Download an Information Leaflet here:
‌FLASH Study Information Leaflet for 8-11 year olds - FLASH Study Information Leaflet for 8-11 year olds (PDF, 56kB)
FLASH Study Information Leaflet for 12-15 year olds - FLASH Study Information Leaflet for 12-15 year olds (PDF, 61kB)
FLASH Study Information Leaflet for 16-18 year olds - FLASH Study Information Leaflet for 16-18 year olds (PDF, 76kB)‌
FLASH Study Information Leaflet for parents/carers - FLASH Study Information Leaflet for parents/carers (PDF, 104kB)‌‌‌
‌
Download a Consent/Assent Form here:
FLASH Study Assent form for 8-15 year olds - FLASH Study Assent form for 8-15 year olds (PDF, 71kB)‌
FLASH Study Consent form for 16-18 year olds - FLASH Study Consent form for 16-18 year olds (PDF, 110kB)‌‌
FLASH Study Consent form for Parents/Carers - FLASH Study Consent form for Parents/Carers (PDF, 109kB)‌
‌