View all news
Can you help us? New video explains how patients and public can help shape our research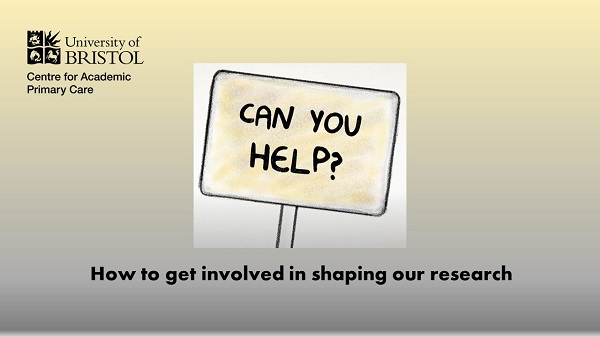 7 July 2021
Primary care is the first port of call when we have a health problem or concern. It includes GPs, pharmacists, dentists and opticians. At the Centre for Academic Primary Care, University of Bristol, we want to make primary care better for everyone through our research. To do this we need members of the public to help us shape our research. We've launched a new animated video that explains what primary care is and how you can get involved.
The video was commissioned by our patient and public involvement leads, Dr Victoria Wilson and Dr Julie Clayton, with funding from the NIHR School for Primary Care Research, and created by Bristol Design Agency Eight. It explains how members of the public can help us by getting involved in all stages of our research, from developing the best ideas all the way through to turning results into action.
Dr Wilson said: "It's really important to us that our research is inclusive and one of the aims of the video is to drive that message home. There can be many barriers to getting involved in research and some people, for example, from minority ethnic backgrounds, are especially under-represented. We wanted to show that everyone's contribution, whatever their background, is important. The greater the diversity, the better and more useful our research is going to be."
Dr Clayton said: "You don't need any special qualifications to get involved as a public contributor to our research. It's your views and experiences of being a patient or having contact with primary care services that we're really interested in. If you'd like to find out more, both Victoria and I would be delighted to talk to you. You can contact us by emailing us at capc-ppi@bristol.ac.uk. Together we can make a difference!"
For more information about getting involved in our research, see Information for the public.
Further information
About the Centre for Academic Primary Care, University of Bristol
The Centre for Academic Primary Care (CAPC) at the University of Bristol is a leading centre for primary care research in the UK, one of nine forming the NIHR School for Primary Care Research. It sits within Bristol Medical School, an internationally recognised centre of excellence for population health research and teaching. Follow us on Twitter: @capcbristol.
About the National Institute for Health Research
The mission of the National Institute for Health Research (NIHR) is to improve the health and wealth of the nation through research. We do this by:
Funding high quality, timely research that benefits the NHS, public health and social care;
Investing in world-class expertise, facilities and a skilled delivery workforce to translate discoveries into improved treatments and services;
Partnering with patients, service users, carers and communities, improving the relevance, quality and impact of our research;
Attracting, training and supporting the best researchers to tackle complex health and social care challenges;
Collaborating with other public funders, charities and industry to help shape a cohesive and globally competitive research system;
Funding applied global health research and training to meet the needs of the poorest people in low and middle income countries.
NIHR is funded by the Department of Health and Social Care. Its work in low and middle income countries is principally funded through UK Aid from the UK government.