View all news
Using safety netting advice to avoid missed diagnoses in general practice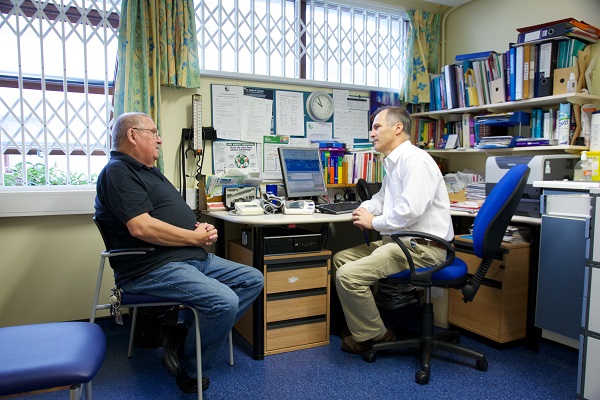 19 November 2019
Safety netting advice is used in almost two-thirds of consultations but GPs vary in how they use it and documentation rates are poor, according to a study by researchers at the University of Bristol's Centre for Academic Primary Care.
It is often not possible to make a definite diagnosis at the first consultation in general practice, as symptoms may be vague, undifferentiated or confusing, and time may sometimes be needed to allow either resolution of symptoms, or clarification of an underlying problem.
Safety netting advice is information shared with a patient or their carer designed to help them identify the need to seek further medical help if their condition fails to improve, changes or if they have concerns about their health. This important diagnostic strategy is studied in two papers published in the British Journal of General Practice today [19 November].
In an observational study of over 300 GP consultations from the One in a Million video and audio archive, the researchers found that safety netting was used in almost two thirds of them, but the precise circumstances or actions required on the patient's part were often unspecified and not documented in the medical record.
In an accompanying paper, the research team report on the development of a coding tool, which enables the recording of how GPs have provided safety netting advice, noting the symptoms or conditions the patient was advised to look out for, the actions that they should take, when and how urgently, along with any plans for further follow-up.
Formalising and recording safety netting may be particularly important in patients with low-risk but not no-risk symptoms suggestive of cancer.
Dr Peter Edwards, lead author of the study from the Centre for Academic Primary Care at the University of Bristol, said: "GPs carry a lot of clinical uncertainty and safety-netting is one method of managing risk by educating patients when they need to seek further help. The poor documentation rates and diverse array of clinical practice, including less safety-netting advice for problems raised later in the consultation, reflect the immense pressures GPs are under and highlight an area where I believe we can improve on, both from a patient safety perspective, but also from a GP medico-legal view."
A short video explains the key findings of the research with contact details for further information.
Papers:
Safety netting in routine primary care consultations: an observational study. Peter Edwards et al. Published in British Journal of General Practice. November 2019.
Development of a tool for coding safety netting behaviours in primary care consultations. Peter Edwards et al. British Journal of General Practice. November 2019.
This project was funded as part of Peter Edwards' Elizabeth Blackwell Clinical Primer Research Fellowship, which was supported by the Wellcome Trust Institutional Strategic Support Fund and Avon Primary Care Research Collaborative (grant reference number ISSF3: 204813/Z/16/Z). Matthew Ridd was funded by a National Institute for Health Research (NIHR) Post-Doctoral Research Fellowship (grant reference number PDF-2014-07-013). Rebecca Barnes was funded by NIHR Collaboration for Leadership in Applied Health Research and Care West. The views expressed in the publication are those of the authors and not necessarily those of the NHS, the NIHR, or the Department of Health.
Further information
About the Centre for Academic Primary Care, University of Bristol
The Centre for Academic Primary Care (CAPC) at the University of Bristol is a leading centre for primary care research in the UK, one of nine forming the NIHR School for Primary Care Research. It sits within Bristol Medical School, an internationally recognised centre of excellence for population health research and teaching. Follow us on Twitter: @capcbristol.
About the NIHR
The National Institute for Health Research (NIHR) is the nation's largest funder of health and care research. The NIHR:
funds, supports and delivers high quality research that benefits the NHS, public health and social care
engages and involves patients, carers and the public in order to improve the reach, quality and impact of research
attracts, trains and supports the best researchers to tackle the complex health and care challenges of the future
invests in world-class infrastructure and a skilled delivery workforce to translate discoveries into improved treatments and services
partners with other public funders, charities and industry to maximise the value of research to patients and the economy.
The NIHR was established in 2006 to improve the health and wealth of the nation through research, and is funded by the Department of Health and Social Care. In addition to its national role, the NIHR commissions applied health research to benefit the poorest people in low- and middle-income countries, using Official Development Assistance funding.
This work uses data provided by patients and collected by the NHS as part of their care and support and would not have been possible without access to this data. The NIHR recognises and values the role of patient data, securely accessed and stored, both in underpinning and leading to improvements in research and care. www.nihr.ac.uk/patientdata.