View all news
Supporting children exposed to domestic violence: summary of evidence synthesis published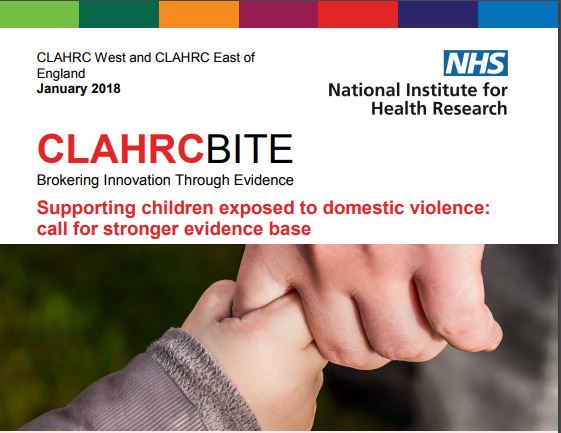 20 December 2017
Services for children who are exposed to domestic violence and abuse are vital, but NIHR-funded researchers have found that there is little evidence for what support works best. A new summary of a recent report on the current evidence base and what's needed has been published jointly by the NIHR's Collaboration for Leadership in Applied Health Research (CLAHRC) West and CLAHRC East of England.
While there is much good quality evidence for the support offered to adult survivors of domestic abuse, there is very little evidence for what might help children from these families.
Children living in a home where there is domestic violence, even if they don't directly witness violent acts, are more likely to suffer problematic behaviour, anxiety, depression, post-traumatic stress disorder, and educational problems. As adults they are more likely to have mental health problems, be unemployed, and perpetrate or experience domestic violence.
Researchers from the universities of Bristol, Cambridge, Central Lancashire and Canada's McMaster University have examined all the existing studies on this issue, as well as interviewing parents, children and professionals in the field.
They recommend that there should be more in-depth studies in the UK to understand which programmes work, and which don't.
They also recommend that the programmes' effectiveness should be measured against outcomes that children, parents, service providers and policymakers think are important.
Read the full 'CLAHRCBITE' summary.
Further information
The National Institute for Health Research (NIHR): improving the health and wealth of the nation through research.
Established by the Department of Health, the NIHR:
funds high quality research to improve health
trains and supports health researchers
provides world-class research facilities
works with the life sciences industry and charities to benefit all
involves patients and the public at every step
For further information, visit the NIHR website www.nihr.ac.uk.