View all news
University of Bristol to listen to views on building names with links to the slave trade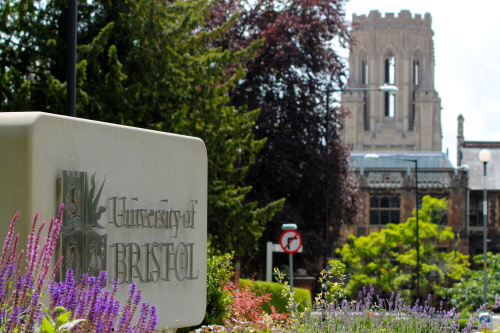 Press release issued: 22 November 2022
The University of Bristol is launching a listening exercise today, seeking views on whether seven buildings whose names are linked in different ways to the transatlantic trade in enslaved Africans should be renamed.
The University is doing so with an awareness that there are a range of views and is open to hearing all of them before taking any next steps. Staff, students and the wider community of Bristol will be asked for their thoughts on prominent buildings such as the Wills Memorial Building and Goldney Hall.
The online consultation, which runs until 19 December, follows feedback from some staff and students who feel that building names and the University logo should be changed to better reflect a modern-day institution in a diverse and forward-thinking city, as well as those who believe that the complexity of our past could best be recognised through greater in-depth understanding and explanations.
One of the key arguments put forward was that, for example, money donated by Henry Overton Wills III to help found the University in 1909 had its early origins in importing and selling tobacco produced on plantations of the US South, where enslaved labour made up the majority of the workforce until 1865. In their view, a building named for Wills failed to respect the lives of those harmed by slavery. As a result, the University made a commitment to fully interrogate its history to help it better understand its past and use that knowledge to shape its future.
The University is also planning some in-person events in December so it can get as many views as possible. Details of these will be published very soon.
In January 2020, Professor Olivette Otele was appointed as the University's first Professor of the History of Slavery, undertaking a two-year research project on the University of Bristol's, and the wider city's involvement, in the transatlantic slave trade.
The report, which includes detail from documents, financial papers and accounts dating back to the 1860s confirms that the University's founding was financially supported and made possible by individuals whose families had directly or indirectly profited from the products of the slave trade.
The seven University buildings which are named after these families and organisations, and will form the basis of the consultation, are as follows:
Wills Memorial Building
Fry Building
Merchant Venturers Building
HH Wills Physics Laboratories
Goldney Hall
Wills Hall
Dame Monica Wills Chapel
In addition to building names, the University has already made a commitment to reviewing its crest and logo which features the symbols of Colston, Wills and Fry.
Professor Evelyn Welch, Vice-Chancellor and President, said: "It is important to understand the University of Bristol's foundation and the relationship of our early supporters with global commodities such as sugar and tobacco which relied on the Transatlantic Slave Trade. In publishing this report, we are opening an important exercise in listening to the views of our communities, acknowledging that its findings will be painful and difficult for many within the university, our city and beyond. It throws light on the complexity of our past where members of our founding families could be prominent abolitionists and, at the same time, benefit financially from slavery and forced labour. Whatever the outcome of the consultation, our job is to reflect on how racial inequalities impact on our communities today and put in place the effective actions that are needed to be a truly inclusive 21st century institution."
Saranya Thambirajah, Equality, Liberation and Access Officer at Bristol Students' Union, said: "I welcome this consultation from the university and look forward to engaging with relevant student groups, staff and the wider community on this issue to bring about constructive dialogue and find a way forward that makes us all proud to be part of this city. Our history does not mean we cannot be bold in the beliefs and values we take into the future and uniting to talk about important and sensitive topics such as this is what truly drives change."
Dr Jane Khawaja, Co-Chair of the University's Anti-Racism Steering Group, said: "Acknowledging and understanding our history is vital to providing a foundation to begin conversations about how we address contemporary issues across our campuses, and the type of sustained changes we need to make to address ongoing racial inequalities in our University and city."
Professor Judith Squires, Deputy Vice-Chancellor and Provost, and Co-Chair of the University's Anti-Racism Steering Group, added: "We established our Anti-Racism Steering Group (ARSG) in July 2020 to develop strategies to address all manifestations of racism within our University. We will use this report, in addition to other research being undertaken in areas such as the Perivoli Africa Research Centre (PARC) and through projects such as Citizens Researching Together, to inform the ongoing work of the ARSG. This consultation will help us to understand what people across our communities and the wider city think about the names of these buildings. We welcome all feedback. Whatever the outcome of the consultation, we are firmly committed to eradicating racism and exclusion today."