View all news
Handgrip strength shown to identify people at high risk of type 2 diabetes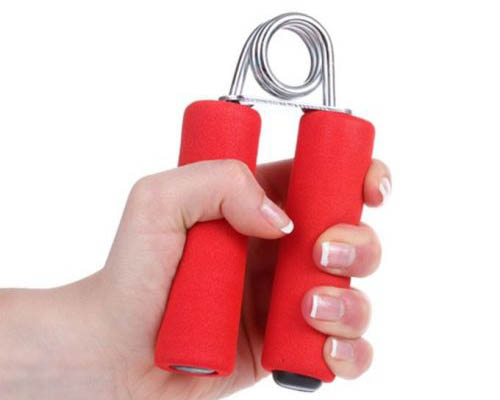 Press release issued: 2 September 2020
A simple test such as the strength of your handgrip could be used as a quick, low-cost screening tool to help healthcare professionals identify patients at risk of type 2 diabetes. In new research, scientists at the universities of Bristol and Eastern Finland measured the muscular handgrip strength of 776 men and women without a history of diabetes over a 20-year period and demonstrated that the risk of type 2 diabetes was reduced by around 50 per cent for every unit increase in handgrip strength value. The findings are published today in Annals of Medicine.
Diabetes in all forms is the ninth major cause of death in the world. Around 90 per cent of people with diabetes have type 2 diabetes. In the UK alone, one in ten people over 40 are now living with a diagnosis of type 2 diabetes. It is expected that if nothing changes, more than five million people will have developed diabetes by 2025. Though older age, obesity, family history and lifestyle factors such as physical inactivity, smoking, unhealthy diet and excessive alcohol contribute substantially to the risk of developing type 2 diabetes, these factors alone do not explain all of the risk for type 2 diabetes. It appears other factors may be involved. Reduced muscular strength, which can be measured by handgrip strength, has consistently been linked to early death, cardiovascular disease, and disability.
Until recently, there was inconsistent evidence on the relationship between handgrip strength and type 2 diabetes. In a recent literature review of ten published studies on the topic the same researchers demonstrated that people with higher values of handgrip strength had a 27 per cent reduced risk of developing type 2 diabetes. However, while findings from this review suggested handgrip strength could potentially be used to predict type 2 diabetes, researchers needed to test this formally using individual patient data.
In this latest study, the researchers from Bristol Medical School and Eastern Finland's Institute of Public Health and Clinical Nutrition followed 776 men and women aged 60-72 years without a history of diabetes over a 20-year period and measured the power of their hand grip strength using a handgrip dynamometer. Patients were asked to squeeze the handles of the dynamometer with their dominant hand with maximum isometric effort and maintain this for five seconds.
An analysis of the results demonstrated that the risk of type 2 diabetes was reduced by about 50 per cent for every unit increase in handgrip strength value. This association persisted even after taking into account several established factors that can affect type 2 diabetes such as age, family history of diabetes, physical activity, smoking, hypertension, waist circumference and fasting plasma glucose. When information on handgrip strength was added to these established factors which are already known to predict type 2 diabetes, the prediction of type 2 diabetes improved further.
According to lead author Dr Setor Kunutsor from Bristol's Musculoskeletal Research Unit: "These findings may have implications for the development of type 2 diabetes prevention strategies. Assessment of handgrip is simple, inexpensive and does not require very skilled expertise and resources and could potentially be used in the early identification of individuals at high risk of future type 2 diabetes."
Importantly, the findings appeared to be marked in women compared to men in sex-specific analyses, suggesting that women are likely to benefit from the use of this potential screening tool.
Principal investigator, Professor Jari Laukkanen from the University of Eastern Finland, added: "These results are based on a Finnish population. Given the low number of events in our analyses, we propose larger studies to replicate these findings in other populations and specifically in men and women."
The authors add that further research is needed to establish whether efforts to improve muscle strength such as resistance training are likely to reduce an individual's risk of type 2 diabetes.
The study was funded by the National Institute for Health Research Bristol Biomedical Research Centre (NIHR Bristol BRC) at University Hospitals Bristol and Weston NHS Foundation Trust and the University of Bristol and the Finnish Foundation for Cardiovascular Research.
Paper
'Handgrip strength improves prediction of type 2 diabetes: A prospective cohort study' by Setor K. Kunutsor, Ari Voutilainen, Jari A. Laukkanen in Annals of Medicine.
'Literature review: Handgrip strength - a risk indicator for type 2 diabetes: systematic review and meta-analysis of observational cohort studies' by Kunutsor SK, Isiozor NM, Khan H, Laukkanen JA, in Diabetes Metabolism Research and Reviews.
Further information
Diabetes is a condition where there is too much glucose in the blood because the body cannot use it properly. If not managed well, both type 1 and type 2 diabetes can lead to devastating complications. Diabetes is one of the leading causes of preventable sight loss in people of working age in the UK and is a major cause of lower limb amputation, kidney failure and stroke. There are currently about 4.7 million people living with diabetes in the UK today.
People with type 1 diabetes cannot produce insulin. About 10 per cent of people with diabetes have type 1. No one knows exactly what causes it, but it's not to do with being overweight and it isn't currently preventable. It's the most common type of diabetes in children and young adults, starting suddenly and getting worse quickly. Type 1 diabetes is treated by daily insulin doses – taken either by injections or via an insulin pump. It is also recommended to follow a healthy diet and take regular physical activity.
People with type 2 diabetes don't produce enough insulin or the insulin they produce doesn't work properly (known as insulin resistance). Around 90 per cent of people with diabetes have type 2. They might get type 2 diabetes because of their family history, age and ethnic background puts them at increased risk. They are also more likely to get type 2 diabetes if they are overweight. It starts gradually, usually later in life, and it can be years before they realise they have it. Type 2 diabetes is treated with a healthy diet and increased physical activity. In addition, tablets and/or insulin can be required.
Source: Diabetes UK
About the National Institute for Health Research
The National Institute for Health Research (NIHR) is the nation's largest funder of health and care research. The NIHR:
Funds, supports and delivers high quality research that benefits the NHS, public health and social care
Engages and involves patients, carers and the public in order to improve the reach, quality and impact of research
Attracts, trains and supports the best researchers to tackle the complex health and care challenges of the future
Invests in world-class infrastructure and a skilled delivery workforce to translate discoveries into improved treatments and services
Partners with other public funders, charities and industry to maximise the value of research to patients and the economy
The NIHR was established in 2006 to improve the health and wealth of the nation through research, and is funded by the Department of Health and Social Care. In addition to its national role, the NIHR supports applied health research for the direct and primary benefit of people in low- and middle-income countries, using UK aid from the UK government.
About NIHR Bristol BRC
NIHR Bristol Biomedical Research Centre's (NIHR Bristol BRC) innovative biomedical research takes science from the laboratory bench or computer and develops it into new drugs, treatments or health advice. Its world-leading scientists work on many aspects of health, from the role played by individual genes and proteins to analysing large collections of data on hundreds of thousands of people. Bristol BRC is unique among the NIHR's 20 BRCs across England, thanks to its expertise in ground-breaking population health research.