View all news
Update on the University of Bristol's response to the Coronavirus (COVID-19) outbreak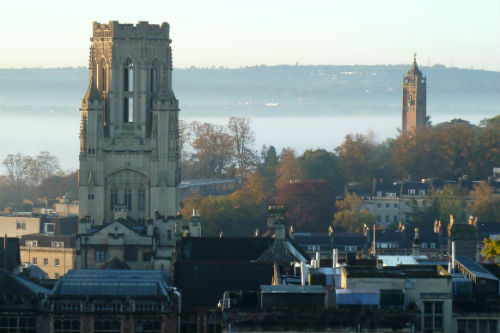 Press release issued: 13 March 2020
In the midst of the COVID-19 outbreak, the health and wellbeing of our students and colleagues is our top priority.
COVID-19 represents a very real threat to the health of our students and staff, families and friends, and the citizens of our city. It also represents a threat to our academic activities, campus operations and institutional reputation.
For some weeks, we have been working intensively with colleagues across the University, and with Public Health England (PHE), the NHS and other city partners, to plan for all scenarios, help prevent the spread of the virus, support affected staff and students, and limit the impact of the outbreak on our academic activities and operations.
We now feel it is the right time to take a number of measures to safeguard our whole community, slow the potential spread of the Coronavirus, and protect our academic mission.
It must be stressed that we are not closing the University.
These measures reflect what we believe are the right things to do for our community, informed by the UK Government's announcement to move from the 'containment' to the 'delay' phase of their strategy.
Teaching Term plans
The University has decided to bring forward the end of teaching for this current term to Wednesday 18 March rather than the original date of Friday 27 March.
This means the last day of face-to-face lectures, tutorials and seminars will be Wednesday 18 March. Students are asked not to turn up to classrooms, seminars or tutorials after this date.
Teaching and research materials that students normally access online will continue to be available.
Arrangements for students on placements and clinical programmes will be confirmed by individual schools.
This will allow the University to prepare to transition to online education with the expectation that most learning and assessment can be delivered online after the Easter holidays. Term will resume as planned on Monday 20 April.
For our students it means they can travel home sooner than the original end of term if they wish (and potentially before further travel restrictions are enforced).
At present we have no plans to cancel our summer assessments, but individual student assessments may be adjusted. The University is committed to upholding its academic standards.
University campus
Libraries and research facilities will remain open, although operations may need to be scaled back if the situation changes.
The University's wellbeing support for both our students and our staff will remain available throughout the extended Easter vacation.
Activities that would normally continue out-of-term such as research and supervision will continue on an individual basis, enabled where appropriate through digital support.
University-owned and managed accommodation will remain open – those who can't travel home or who wish to remain over the Easter vacation will be able to stay on in their residence.
We are asking staff to give support particularly to students working on their dissertations and final-year projects and to prepare online and digital teaching for use after the vacation.
Our research will continue and must be supported; and our administrative, student recruitment and other Professional Services activities will continue.
We will be encouraging and supporting a transition for staff to work from home where possible and especially where staff members may be especially vulnerable to COVID-19.
Fieldtrips and events
The University is cancelling undergraduate and postgraduate overseas fieldtrips until the end of the academic year.
UK fieldtrips are not cancelled at the present time but will be subject to review and changing PHE and Government advice. 
Undergraduate visit days on 18 March and 1 April and the postgraduate open afternoon on 8 April have been cancelled.
Professor Hugh Brady, Vice-Chancellor and President of the University of Bristol, said: "COVID-19 represents a very real threat to the health of our students and staff, families and friends, and the citizens of our city. It represents a threat to our academic activities, campus operations, and institutional reputation.
"It is critical that we take a consistent institutional approach and I believe that the package of measures we are implementing is a balanced and proportionate response that is in the best interests of our students, staff and institution.
"This is indeed a very worrying time for us all - professionally and personally - but I am confident that we can harness our collective ingenuity, resolve and passion for our institution to navigate the choppy waters ahead."
Staff and students can continue to keep updated on the latest developments through our Coronavirus (COVID-19) webpage.