View all news
Drinking alcohol during pregnancy: #Drymester the safest approach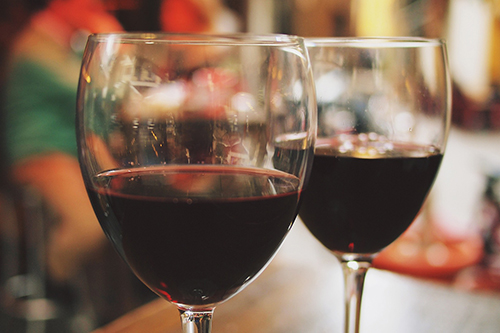 Press release issued: 29 January 2020
Drinking alcohol during pregnancy leads to poorer cognitive functioning in children, according to the most comprehensive review on the issue to date. The University of Bristol research published today [29 January] in the International Journal of Epidemiology, reviewed 23 published studies on the topic and found evidence that drinking in pregnancy could also lead to lower birthweight. The findings reinforce the UK Chief Medical Officers' guidelines, as featured in the current #Drymester campaign, which is that abstaining from alcohol in all trimesters is the safest approach.
To study the effects of drinking alcohol during pregnancy, the researchers funded by the National Institute for Health Research (NIHR) and the Medical Research Council (MRC) combined results from very different study designs for the first time. Methods included traditional studies such as randomised controlled trials, alongside alternative strategies such as comparing children in the same families whose mothers cut down or increased their alcohol use between pregnancies, and a genetic marker-based approach, 'Mendelian randomization'.
Previously, research on this topic has been through 'observational' studies, where participants are already exposed to a risk factor and researchers do not try to change who is or isn't exposed. However, there are limitations with this type of study: it can be impossible to unpick what is caused by alcohol, and what is caused by other factors. These factors could include a woman's education or family environment, as well as genetic predisposition, which can affect her child's development and cognition in the long-term.
Alternative study designs use different ways of minimising or removing these 'confounding' factors, so the results are more reliable. If the results of these studies all point in the same direction, they are less likely to be because of errors and biases, and more likely to be true causes of health and disease.
All the studies included in the review tried to compare like with like groups of people who were only different in terms of exposure to alcohol during pregnancy. This is as close as it gets to what would be achieved in an experiment.
While the review was comprehensive it was limited in its ability to establish how much alcohol leads to these negative outcomes. However, the researchers concluded that women should continue to be advised to abstain from alcohol during pregnancy.
Dr Luisa Zuccolo, the study lead and Senior Lecturer in Epidemiology at Bristol Medical School: Population Health Sciences, said: "The body of evidence for the harm that alcohol can do to children before they are born is growing, and our review is the first to look at the full range of studies on the issue. This is unlikely to be a fluke result, as we took into account a variety of approaches and results. Our work confirms the current scientific consensus: that consuming alcohol during pregnancy can affect one's child's cognitive abilities later in life, including their education. It might also lead to lower birthweight.
"Our study reinforces the UK Chief Medical Officers' guideline: abstaining in all trimesters is the only safe approach, advice also reflected in the #Drymester campaign. This message is more important than ever, given recent research which shows the alcohol industry promoting confusing information about the real health implications of drinking during pregnancy."
The study was conducted by researchers at the University of Bristol's MRC Integrative Epidemiology Unit (IEU), NIHR Applied Research Collaboration West (ARC West) and NIHR Bristol Biomedical Research Centre (BRC).
Paper
'Evidence of detrimental effects of prenatal alcohol exposure on offspring birthweight and neurodevelopment from a systematic review of quasi experimental studies' by Loubaba Mamluk, Timothy Jones, Sharea Ijaz, Hannah B Edwards, Jelena Savović, Verity Leach, Theresa HM Moore, Stephanie von Hinke, Sarah J. Lewis, Jenny L. Donovan, Deborah A Lawlor, George Davey Smith, Abigail Fraser, Luisa Zuccolo in the International Journal of Epidemiology
Further information
About the National Institute for Health Research
The National Institute for Health Research (NIHR) is the nation's largest funder of health and care research. The NIHR:
Funds, supports and delivers high quality research that benefits the NHS, public health and social care
Engages and involves patients, carers and the public in order to improve the reach, quality and impact of research
Attracts, trains and supports the best researchers to tackle the complex health and care challenges of the future
Invests in world-class infrastructure and a skilled delivery workforce to translate discoveries into improved treatments and services
Partners with other public funders, charities and industry to maximise the value of research to patients and the economy
The NIHR was established in 2006 to improve the health and wealth of the nation through research, and is funded by the Department of Health and Social Care. In addition to its national role, the NIHR commissions applied health research for the direct and primary benefit of people in low- and middle-income countries, using UK aid from the UK government.
About the Medical Research Council (MRC)
The Medical Research Council is at the forefront of scientific discovery to improve human health. Founded in 1913 to tackle tuberculosis, the MRC now invests taxpayers' money in some of the best medical research in the world across every area of health. Thirty-three MRC-funded researchers have won Nobel prizes in a wide range of disciplines, and MRC scientists have been behind such diverse discoveries as vitamins, the structure of DNA and the link between smoking and cancer, as well as achievements such as pioneering the use of randomised controlled trials, the invention of MRI scanning, and the development of a group of antibodies used in the making of some of the most successful drugs ever developed. Today, MRC-funded scientists tackle some of the greatest health problems facing humanity in the 21st century, from the rising tide of chronic diseases associated with ageing to the threats posed by rapidly mutating micro-organisms. The Medical Research Council is part of UK Research and Innovation.
About NIHR ARC West
The NIHR Applied Research Collaboration West (NIHR ARC West) co-produces better, more equitable, appropriate and sustainable health and care across the West. It does this through applied health research projects and implementing research evidence, regionally, nationally and internationally. Co-producing research with partner organisations and the people affected by the research is at its heart. To achieve this, its researchers work with health provider organisations, including local NHS and public health, the wider health and care sector including voluntary sector organisations, patients and the public, and other ARCs and academic groups.
About MRC Integrative Epidemiology Unit
The MRC Integrative Epidemiology Unit (IEU) is a research unit based at the University of Bristol with funding from the Medical Research Council. It uses genetics, population data and experimental interventions to look for the underlying causes of chronic disease.
About NIHR Bristol Biomedical Research Centre (BRC)
The NIHR Bristol BRC, awarded to University Hospitals Bristol NHS Foundation Trust (UH Bristol) and the University of Bristol by the NIHR, conducts cutting-edge research to develop new, ground-breaking treatments, diagnostics, prevention and care for patients in a wide range of diseases.
Led by John Iredale (Bristol Pro Vice Chancellor for Health) and Jonathan Sterne, and with George Davey Smith as Scientific Director, the NIHR Bristol BRC has research themes on Cardiovascular Research (led by Gianni Angelini) Nutrition, Diet and Lifestyle (led by Andy Ness), Mental Health (led by David Gunnell), Perinatal and Reproductive Health (led by Debbie Lawlor) and Surgical Innovation (led by Jane Blazeby). The research themes are underpinned by cross-cutting themes in Translational Population Science (led by George Davey Smith) and Biostatistics, Evidence Synthesis and Informatics (led by Jonathan Sterne).
A strand of population health science runs through all themes of the BRC, with a focus on translating scientific discoveries that have arisen from population science into better care for NHS patients.
About #Drymester
The #Drymester campaign was commissioned by the Greater Manchester Health and Social Care Partnership to provide support and information to go alcohol free when pregnant or planning a pregnancy. The clear and simple message – make every trimester #Drymester – is based on the UK Chief Medical Officers' guidelines, that the safest approach is not to drink alcohol at all to keep risks to your baby to a minimum. For more information see www.drymester.org.uk