View all news
Theatre Collection acquires oil painting of one of the 20th century's greatest actresses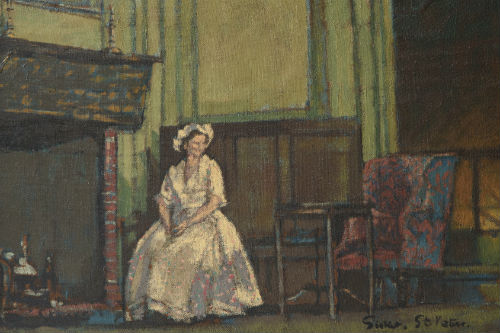 Press release issued: 1 November 2019
The University of Bristol's Theatre Collection has acquired an oil painting of the renowned actress Dame Peggy Ashcroft by the acclaimed artist Walter Sickert.
The painting is one of a series that Sickert (1860-1942) produced of Ashcroft (1907-1991) in the role of Kate Hardcastle in Oliver Goldsmith's She Stoops to Conquer which played at the Old Vic in London during the 1932-33 season.
It has been acquired by the Theatre Collection via the Arts Council England Acceptance in Lieu Scheme which places pre-eminent culture in public museums, archives and galleries.
The painting is from the collection of Lord and Lady Attenborough and is on display at the Theatre Collection at its current location in Park Row before moving to the new University Library, which will house the Theatre Collection, when it opens in 2023-24.
Ashcroft recounted how Sickert would bring a photographer with him to the theatre to capture certain aspects of her performances and poses. It was from these photographs that Sickert worked to produce this painting and the others in the series.
Sickert had a lifelong interest in theatre. As a young man he played small roles on the Victorian stage, most notably in the company of Sir Henry Irving.
In the 1930s he produced a series of works depicting the newest generation of theatrical stars. Dame Peggy Ashcroft was one of these rising stars and became one of the most acclaimed stage actresses of her time. As well as being an important artwork, this painting has an important place in the history in British theatre.
Jo Elsworth, Director of the Theatre Collection, said: "We are delighted to receive this gift of such a significant artwork; it is particularly relevant to hold it alongside the archives Old Vic, where the performance depicted took place and where Dame Peggy Ashcroft spent her formative years."