View all news
Prestigious award for Innovation Centre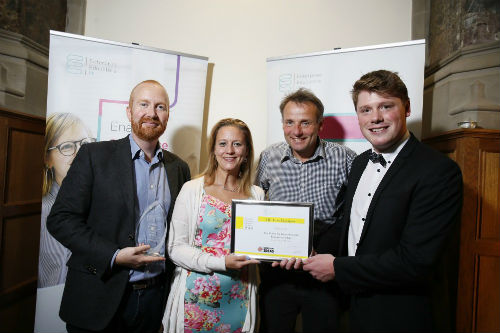 Press release issued: 7 September 2018
The team at the University of Bristol's Centre for Innovation and Entrepreneurship has been awarded the Higher Education Team Enterprise Award at last night's National Enterprise Educator Awards (NEEA) held in Leeds.
The HE Team Enterprise award recognises exceptional teams that work to help others develop entrepreneurial skills and mindset and comes with £1000 in funding thanks to sponsorship from Simply Do Ideas. The team award is one of three NEEA awards that recognise this type of exceptional commitment to supporting and inspiring entrepreneurship within higher and further education in the UK.
The Centre's Academic Director, Dr Kirsten Cater, said: "Our team is so proud to have won this award, to have the recognition of our national peers for what we have already achieved in only two years with our innovative educational approach."
Launched in September 2016, the Bristol Innovation Courses are the first of their kind in the UK to merge traditional academic subjects with entrepreneurship and innovation. The programme allows undergraduates to study one of 11 core disciplines such as music, history, physics or computer science, alongside innovation.
The four-year programme leads to a masters' qualification in the students' core subject with innovation. Some plan to go on to develop and their own enterprise or business venture and some are aiming to be intrapreneurs innovating within an established organisation, but all will leave the programme with vital relevant skills in innovation, change, creativity and enterprise.
The students and staff are based in a new University studio-based teaching environment and start-up incubator in the Richmond Building. It is here students work in teams across disciplines to solve a variety of innovation challenges alongside specialists from industry, resulting in products and services that build on the city and the University's expertise and experience.