View all news
Local students urged to apply for university taster course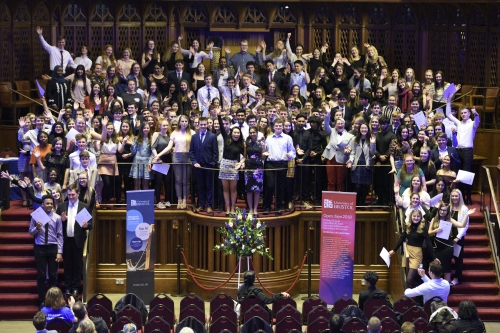 Press release issued: 10 September 2018
Applications are now open for a unique university 'taster' scheme run by the University of Bristol and aimed at local pupils.
The Access to Bristol course is designed to encourage and inspire pupils who might not otherwise consider going onto higher education.
It's open to anyone studying for A-levels or equivalent at state schools and colleges within an hour's journey from the University.
Participants will gain a unique insight into what it's like to study at university, try out facilities and work with current students.
Access to Bristol is hugely popular as it offers participants a guaranteed place or interview at the University of Bristol, should they later decide to apply for a place and meet the entry requirements. Many students are also eligible for a bursary.
Of the 783 students who took part last year, a record 126 students will begin their studies at the University later this month.
Doug Jennings, Head of Education Partnerships, said: "Access to Bristol is about giving students an exciting and challenging experience. For many, it helps them to make that final decision about the subject they wish to study and see that university is a viable option.
"Even if they don't opt to study at Bristol, the scheme is designed to help local pupils prepare for university life as a whole – from writing a good application to managing their finances."
Access to Bristol requires students to attend a series of sessions, held at the University on Wednesday afternoons during the Autumn and Spring term, studying one of 29 subject streams.
Each session is designed to give students an idea of what it is like to study at the University, working with academics and current students who can offer advice and guidance about higher education and their chosen area of study.
There's also a programme called Pathways to Law, and Pathways to Health Sciences, which are similar to Access to Bristol but concentrate on Law, Medicine, Dentistry or Veterinary Science and takes place over a two year period.
The University of Bristol has run Access to Bristol since 2006. In that time, around 3,500 students have completed the course and over 500 have gone on to study at the University.
Applications for the 2018/19 scheme are open until 28 September 2018. More information is available on the Access to Bristol webpage.