View all news
Extraordinary history revealed in new book on Bristol Zoo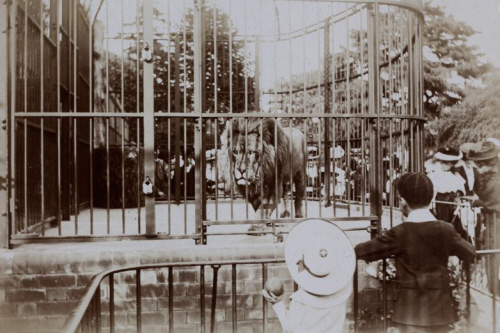 Press release issued: 6 March 2018
Our changing relationship with the wild and animals at the world's oldest surviving provincial zoo is uncovered in a new book published today (Tuesday 6 March) by Dr Andy Flack, Teaching Fellow in Modern History at the University of Bristol.
Andy spent three years in the largely unexplored archives at Bristol Zoo to examine our attachment to animals as commodities and spectacles, for scientific knowledge and emotional bonds.
"The Wild Within: Histories of a Landmark British Zoo" is the deepest historical study of Bristol Zoo and the first academic study of any provincial zoo in the UK, using every available archive to tell some familiar stories in a different way. This includes how animals were routinely fed wine or stout in the nineteenth and early twentieth centuries; how visitors could be cruel to animals by firing catapults or poisoning them; that the zoo regularly took donated animals from the public such as lions, monkeys and birds; and how our attitudes to animals with disabilities have changed.
The book highlights the zoo as a leader in breeding and conservation success and how it was part of an international trading network that included circuses and travelling menageries.
Author and Teaching Fellow at the University of Bristol Dr Andy Flack said: "As well as revealing so much fascinating detail about the zoo's history, I also found that by looking at the zoo and its past we could learn an awful lot about our own attitudes to animals and the wider world today. In some ways this book is a story about what it means to be human in the modern world."
Interesting Bristol Zoo facts documented in "The Wild Within" include:
In 1894 a Bengal tigress was loaded onto a passenger train at Clifton Down station travelling to London Paddington and then onto New York to join Barnum and Bailey's Greatest Show on Earth.
The Zoo's gorilla, Alfred, was not only famous in Bristol between 1930 and 1948, but also as far away as the USA, Australia and New Zealand. He was known as the 'Dictator of Bristol' and was a symbol of endurance during the Blitz.
The nocturnal house is the oldest in the world. Constructed in 1954 it revolutionised spectatorship of night-time creatures in captive environments.
Dogs such as Labradors, St Bernards and sled dogs were exhibited until the early twentieth century.
The Zoo lent animals to the BBC for filming of the children's show Animal Magic.Gorillas and orangutans would be taken to the studios on Whiteladies Road by taxi.
To mark the publication a special public lecture is being hosted by the newly revived Bristol Branch of the Historical Association at the Coutts Lecture Theatre, Wills Memorial Building, University of Bristol on Wednesday 21 March at 7:30pm.
There is also a tour of the zoo hosted by Dr Andy Flack with the Bristol Historical Society on Wednesday 28 March at 3.30pm.
For more information and to book places for either event, please contact Mary Feerick: maryfeerick58@gmail.com, or visit bristolha.wordpress.com.
The book is published by University of Virginia Press and is available in the Zoo giftshop as well as most UK booksellers at a cost of £29.00.