View all news
UAV high-altitude atmospheric sampling wins UK engineering prize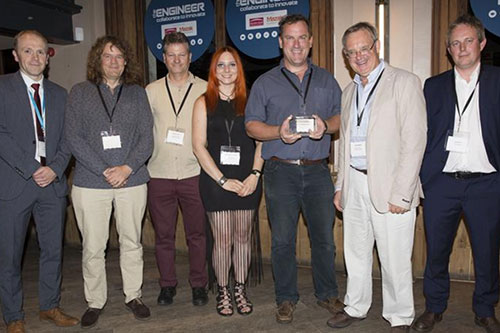 13 September 2016
A team of scientists and engineers, including three academics from Bristol, has won a prestigious award for field research on Ascension Island using lightweight drones.
Professor Jim Freer from the Faculty of Science and Dr Tom Richardson and Dr Colin Greatwood from the Faculty of Engineering won a Collaborate to Innovate UK engineering award, along with their NERC-funded partners from the University of Birmingham (Dr Rick Thomas and Professor Rob MacKenzie) and Royal Holloway, University of London (Professor Euan Nisbet, Rebecca Brownlow and Dr David Lowry). These awards are organised by The Engineer, the UK's longest-running engineering publication.
The team won an EPSRC-supported prize in the Energy, Efficiency and Sustainability category judged by a panel of leading UK engineers. It required the winners to demonstrate 'that they were innovative, collaborative and likely to have an impact in their field of application'.
The research outlined two highly successful field campaigns carried out on Ascension Island, collecting multiple atmospheric samples up to 2,700 metres above mean sea level using unmanned air vehicles (UAVs). This was the first time that such repeated, high-altitude air sampling missions have been carried out using lightweight drones. This low-cost method has been shown to be a highly flexible approach to atmospheric sciences which offers the potential to be highly automated and widely applied.
This research was supported by a NERC grant 'Investigation of the Southern Methane Anomaly: causes, implications, and relevance to past global events' (NE/K006185/1).
A short video introduction to the flight campaigns on Ascension can be found on YouTube.