View all news
Bristol citizens in driving seat for urban regeneration project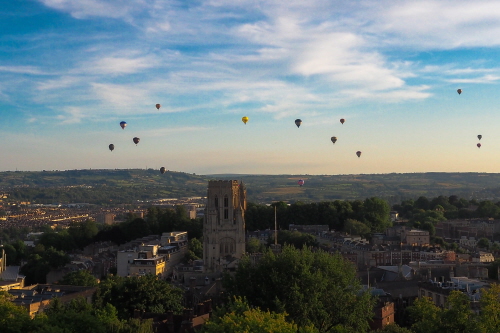 Press release issued: 26 May 2016
People living in Bristol are set to benefit from a new UK research and innovation initiative that will put them in the driving seat to help improve the city's health, well-being and prosperity as they face up to challenges of modern urban living.
The city has been awarded one of only five Urban Living Partnership projects in a first-of-its-kind investment by the seven Research Councils UK (RCUK) and the government's innovation agency, Innovate UK. The Bristol Urban Area Diagnostics Project will be led by the University of Bristol.
Jo Johnson, Minister for Universities and Science, who announced a total investment of £3.9 million at the launch of the initiative last week, said: "At their best, cities drive innovation, cultural and economic activity and social integration. However, they also face increasing challenges, such as overheating, congestion, poor supply of water and the removal of waste. These new projects will combine business acumen with academic talent and community leadership to help tackle these issues and ensure the continued prosperity in five of our greatest cities."
The Bristol 'pilot' project will bring citizens together with researchers from Bristol's two universities, both local authorities and partners from business and the third sector aimed at developing a blueprint for the evolution of our city living. Project leaders are committed to working with a broad set of local communities and partners to investigate the very real challenges facing the city across four areas: mobility and accessibility, health and happiness, equality and inclusion, and tackling dependency on fossil fuels.
Marvin Rees, Mayor of Bristol, said: "Bristol is one of the UK's leading smart cities and enjoys much economic and cultural success. However, this success doesn't reach everybody, so projects like this can really help inform the way we close the inequality gaps and create a better Bristol for everybody. I am very keen to work collaboratively across sectors and traditional boundaries in the interest of the city as a whole. This is perfectly in tune with that aspiration and I look forward to supporting the partnership in its work."
As European Green Capital 2015 and one of the Rockefeller 100 Resilient Cities, Bristol has challenged itself to transform by 2065 into a place where citizens 'flourish' by working together to create well-being, and achieve this equitably and sustainably. The Bristol Urban Area Diagnostics Pilot aims to address a fundamental issue: what is stopping Bristol from bridging the gap to this new vision and overcoming current problems such as traffic congestion, poor air quality and the pockets of social deprivation and poverty evident in some wards.
Professor Colin Taylor, Future Cities Research lead at the University of Bristol's Cabot Institute and principal investigator of this pilot study, said: "The Bristol region is well-placed to grasp the opportunities and tackle the challenges of future urban living. This initiative provides an exciting new way for Bristol's two universities to work closely with Bristol City Council and South Gloucestershire Council together with communities and businesses to explore the new skills that are needed in order to support a thriving future.
"We intend to build on the momentum generated by Bristol's European Green Capital and begin a long-term programme of collaborative research and development, which we hope will have national and global impact."
Andrew Kelly, Director of the Bristol Cultural Development Partnership and a key project supporter, commented: "The future of cities and the future of Bristol – especially in making it a place for all to live, learn, enjoy, work in and prosper – has been a key priority for Bristol Cultural Development Partnership and Bristol Festival of Ideas for 20 years.
"The second Festival of the Future City in October 2017 will be devoted to urban living and we plan to debate all the Urban Living projects then as well as in the build up to the festival."
Plans are already in place to ensure there will be a legacy from the 18-month project. Firstly researchers aim to develop and openly share new participative approaches for diagnosing urban challenges with the project partners. Secondly in applying these to the Bristol urban area the team expects to help local authorities, partnerships and businesses gain a better understanding of the causes of the many challenges facing the city and how to address these. Finally, the project will strengthen an emerging team of cross-sector city leaders and partnerships and build the capacity to apply an integrated diagnostic approach and challenge the prevailing 'business as usual' approaches.
Further information
Strong and broad local participation
The pilot will forge a partnership focused on the neighbouring City of Bristol and South Gloucestershire urban area. Full backing has been secured by the two local authorities, Bristol Green Capital Partnership and Bristol Health Partners, the LEP, the local business community, citizen groups, and academics from across both Universities.
The 14 core project partners are: Bristol City Council; South Gloucestershire Council; Bristol Green Capital Partnership; Bristol Health Partners; Future Cities Catapult; Royal Society for Arts (South West Region); Knowle West Media Centre; Watershed Media Centre; West of England Local Enterprise Partnership; Bristol Festival of Ideas; Arup UK; Buro Happold Limited; Business West and PwC LLP.
Building on Bristol's internationally recognised research
A key strength of the project will be to influence internationally leading research assets, including: Bristol is Open; the FP7-funded Systems Thinking for Efficient Energy Planning (STEEP); the Horizon 2020 REPLICATE project; ongoing work at the £3.5 million EPSRC/ESRC International Centre for Infrastructure Futures (ICIF) and co-produced and co-designed research such as the AHRC/ESRC Connected Communities and Digital Economy funded projects including REACT Hub, Tangible Memories and Productive Margins.
The project will also have access to a wealth of highly valuable data sources including the 2015 State of Bristol Report, Bristol's Quality of Life Survey and the Avon Longitudinal Study of Parents & Children (ALSPAC), which that has followed the health of 14,500 local families since the 1990s.
Development of a novel diagnostics approach
The Bristol Urban Living Project team intend to build on the ICIF cognitive modelling approach, which identifies the importance of challenging the 'business-as-usual' mind-set. At the heart is co-creation and co-production, and an acknowledgement that citizen behaviour and action are essential to the delivery of desired societal outcomes such as well-being, equality, health, learning, and carbon neutrality.
The work programme will combine existing domain-specific diagnostic methodologies and tools to create a novel Integrated Diagnostics Framework. The project team strongly believe that unless an integrating framework is developed to bring together multiple viewpoints, the diagnosis of urban challenges will remain fragmented and understandings will potentially conflict.
The RCUK/Innovate UK Urban Living Partnership
The Urban Living Partnership brings together all seven Research Councils and Innovate UK to promote integrated research and innovation to address the challenges faced by urban areas in the UK and to help them realise their visions for future urban living.
The five pilot consortia, announced on Thursday 19 May, were selected following peer review after an open competitive call for proposals submitted by 41 consortia.
Each of the five consortia is expected to conduct an initial pilot diagnostic phase focused on building integrated understanding of the challenges, opportunities and future visions of a specific UK city/urban area and developing agendas for future research and innovation.
About Research Councils UK (RCUK)
RCUK is the strategic partnership of the UK's seven Research Councils. Our collective ambition is to ensure the UK remains the best place in the world to do research, innovate and grow business. The Research Councils are central to delivering research and innovation for economic growth and societal impact. Together, we invest £3 billion in research each year, covering all disciplines and sectors, to meet tomorrow's challenges today. Our investments create new knowledge through: funding research excellence; responding to society's challenges; developing skills, leadership and infrastructure; and leading the UK's research direction. We drive innovation through: creating environments and brokering partnerships; co-delivering research and innovation with over 2,500 businesses, 1,000 of which are SMEs; and providing intelligence for policy making.
The seven Research Councils UK are:

About Innovate UK
Innovate UK is the UK's innovation agency. Innovate UK works with people, companies and partner organisations to find and drive the science and technology innovations that will grow the UK economy – delivering productivity, new jobs and exports. Our aim at Innovate UK is to keep the UK globally competitive in the race for future prosperity.