View all news
Research on origins of life wins Three Minute Thesis prize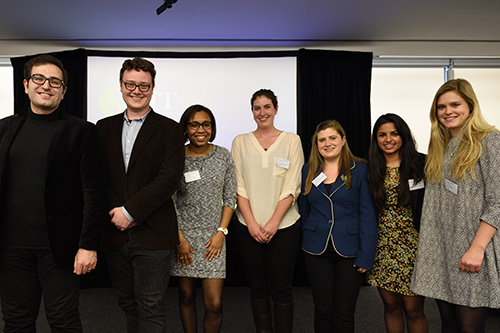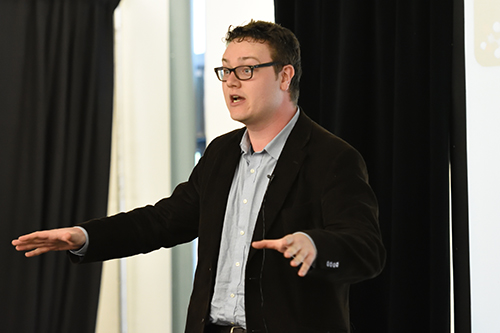 10 May 2016
PhD researcher Sam Briggs successfully summed up his research into the chemical origins of life to win the University of Bristol's Three Minute Thesis competition, which challenges postgraduate students to present years of work that go into a PhD thesis in just three minutes.
Sam, a second-year PhD student in the School of Chemistry, won out against six other finalists at the At-Bristol Science Centre on Monday evening, as part of the University's annual Research without Borders exhibition.
He will now go on to represent Bristol in the national semi-finals of the Three Minute Thesis (3MT), as part of a global academic contest that encourages early-career researchers to communicate their work and its impact in language everyone can understand. Using just a single slide, each contestant must bring their research to life in a concise and engaging way, before the three-minute bell chimes.
Sam, who is investigating the chemical conditions that kick-started evolution, spoke about 'protocells': self-assembling compartments that are thought to be a stepping stone in the origins of life. By studying protocells in different conditions, Sam hopes to gain new insight on how life came to exist and how the chemistry involved can be used to deliver drugs that will help us live longer.
Sam, who won an iPad for securing first place, said: 'The 3MT experience has been a thoroughly enjoyable one, I have met so many interesting people and been able to hone my presentation skills. I really hope that this sort of communication platform allows more people to become enthused about research!'
He will go through to a national semi-final in July, where six candidates will be chosen to compete in the UK final at the Vitae Researcher Development International Conference on 12 September.
Keri McNamara, from the School of Earth Sciences, won second place in the Bristol competition with her presentation on 'Discovering African volcanic eruptions'. She focused on the volcanoes of Ethiopia and how past eruptions might help to predict what will happen if they erupt in the future.
Third place and the people's choice award went to Clara Montgomery, from the School of Biological Sciences. Her presentation, 'Electric bees: why it helps to be positive', showed how bumblebees can sense the electric charges on flowers and why this might be important for pollination.
The 3MT competition has become hugely successful since it was created by the University of Queensland, Australia, in 2007 and has extended to higher education institutions around the globe.
Further information
The Bristol 3MT is organised by the Bristol Doctoral College in collaboration with the Bristol SU Postgraduate Network. 'Research without borders' celebrates the research being undertaken by Bristol doctoral students and how it can help tackle issues of global and regional concern.
Each finalist's presentation can be viewed on the Bristol Doctoral College YouTube channel.