View all news
'Game changer' technology scoops top prize in the New Enterprise Competition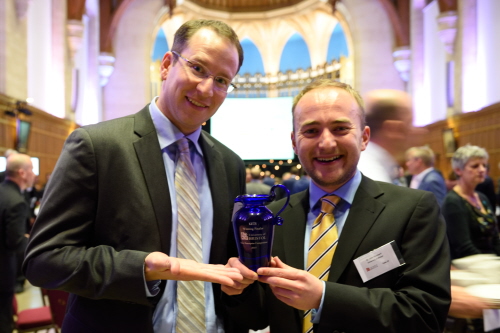 Press release issued: 16 October 2015
New quantum technology to ensure data is secure has won the University of Bristol's equivalent to Dragon's Den and a share of over £35,000 prize money.
KETS, a company formed by Dr Chris Erven, Dr Jake Kennard, Phil Sibson and Professors Jeremy O'Brien and Mark Thompson, uses quantum cryptography to improve data encryption – ensuring information is safe in all situations, from bank transactions to critical infrastructure, and to individuals shopping online from the comfort of their own home.
Their concept beat 103 entries to scoop the top prize in the New Enterprise Competition which was judged by a panel of industry experts.
The team won £10,000 in cash, £2,000 worth of legal support and a year in the Bristol SETsquared Centre – the University's double award-winning business incubator - to help develop the technology further, explore potential uses and how it can be licensed to industry.
Nine finalists had to submit a 20-page business plan and give a presentation pitch to a panel of judges, before eagerly awaiting the announcement of the winner at last night's [15 October] Enterprise Dinner in the Wills Memorial Building.
KETS is the culmination of over two years work from the team of researchers, who are based in the University's world-leading Centre for Quantum Photonics.
They describe the technology as a 'game changer' because it uses new quantum methods to ensure the most sophisticated and secure communications.
Dr Erven said: "It's fantastic to win and the judging panel were very receptive to our pitch. It's really starting to snowball now and this extra investment and support will make a huge difference. KETS technology will provide for secure communications in a fundamentally new way."
Dr Kennard added: "It's been a real team effort, building on all the excellent work which has been going on in Bristol for the last 10 years. We're the first of hopefully many spin-outs to come from the Centre for Quantum Photonics at the University of Bristol, focusing on building devices that real people will use."
Second place in the New Enterprise Competition and £7,000 went to Funeral Arrangements, a company founded by French graduate Tom Harries, offering an online service for funeral directors and the bereaved.
And third place went to Imprint Clothing, a fashion social enterprise founded by History of Art student Lydia Cooper which aims to provide skills, flexible employment and empowerment to disadvantaged women in Bristol. She won £2,000 cash and £3,250 worth of marketing and business support.
There were two 'honorable mentions' in this year's competition, Filthy Banana and No More Taboo, who will each receive £1,000.
This year's competition entries were judged by a panel of industry experts from sponsoring organisations including Deloitte, Wyvern, SETsquared, Santander, IP Group, Airbus, Motorola, Watertight Marketing, Social Enterprise Works, Marketest and Veale Wasbrough Vizards.
The winners of two other awards were also announced at the Enterprise Dinner, with Professor Hugh Brady, Vice-Chancellor at the University of Bristol, praising the city's 'innovation eco-system' and the University's wealth of student entrepreneurs.
The Vice-Chancellor's Impact Award 2015
Dr Hannah Christensen and Professor Matt Hickman were named the winners of the Vice-Chancellor's Impact Award 2015 for their Meningitis B modelling study. Their research into the potential impact of a vaccine on cases of meningitis and septicaemia and the cost-effectiveness of a range of immunisation programmes was critical to the Department of Health's decision to introduce the new Meningitis B vaccine, Bexsero, into the childhood immunisation schedule.
The University of Bristol Engagement Awards 2015
Professor Eric Herring received the award for his work on the Somali First (SF) initiative, which uses evidence generated by the Transforming Insecurity (Trinsec) project to promote Somali-led development. The annual competition is run by the University's Centre for Public Engagement. Read more about the winner and five highly commended projects.