View all news
'Rising star' Tom collects two international engineering awards in one week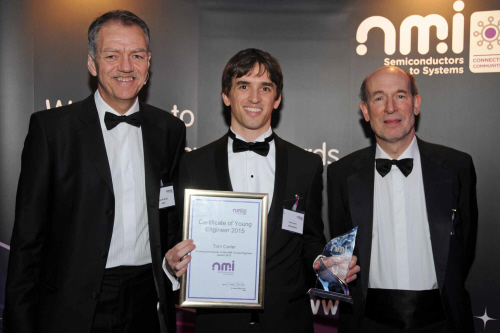 Press release issued: 27 November 2015
A University of Bristol PhD student, responsible for creating a unique technology that uses ultrasound to create tactile sensations in mid-air, is celebrating after winning two top awards in the space of a week.
Tom Carter, who founded start-up company Ultrahaptics during his studies, was named 'Young Engineer of Year' by the National Microelectronics Institute and also scooped the 'Rising Star - New Engineer of the Year' award at the 2015 Elektra awards.
It caps off an impressive year for the 27-year-old and Ultrahaptics, which has just announced a £10.1 million investment and is attracting interest from companies around the world who would like to utilise the technology.
The system uses ultrasound to project sensations through the air and directly onto the user, revolutionising how people interact with computers, automobiles and consumer goods. Users can feel touchless buttons, get feedback for mid-air gestures or interact with virtual objects.
This year's NMI Young Engineer of the Year award recognises individuals who demonstrate exemplary service to the advancement of the electronic engineering profession, and it's the second time in a row that it's been won by a University of Bristol Computer Science student following on from James Pallister success last year.
The Elektra awards, run and hosted by Electronics Weekly, recognise excellence in Europe's electronics industry. They celebrate achievements in key areas of electronics businesses including, innovation, sales growth, and employee motivation.
The Rising Star award celebrates engineers in their first five years in the electronics industry who demonstrate a high level of practical skill and ambition.
Commenting on the awards the judges, a selection of industry veterans, said: "Tom Carter is an exceptional young engineer who at the age of 26 is already chief technical officer of UK start-up company Ultrahaptics. The judges believe his achievements to date have been nothing less than remarkable. In three years since leaving university he has developed the patented-technology which is the basis of the firm's haptic touch systems."
Dr Andrew Calway, Head of Computer Science at Bristol, said: "This is a great achievement and we are very proud of Tom. We put a lot of emphasis on giving students opportunities to be innovative and entrepreneurial within our degree programmes, and Tom's work with Ultrahaptics is an excellent example of what they can achieve."

The company's early commercialisation efforts were supported by the University's Research and Enterprise Development team and funded from the University's EPSRC Impact Acceleration Account.

Ultrahaptics joined the Bristol SETsquared Centre - the University's award-winning business incubator - hot on the heels of winning the University's New Enterprise Competition two years ago.

SETsquared in now based in Engine Shed and Ultrahaptics has gone from strength to strength, expanding from one desk to 24 and occupying the biggest office.
Further information
About Ultrahaptics
Ultrahaptics is the world's leading mid-air haptics company. The company has developed a unique technology that enables users to receive tactile feedback without needing to wear or touch anything. The technology uses ultrasound to project sensations through the air and directly onto the user. Users can 'feel' touch-less buttons get feedback for mid-air gestures or interact with virtual objects.