View all news
Bristol Data Dome launches this autumn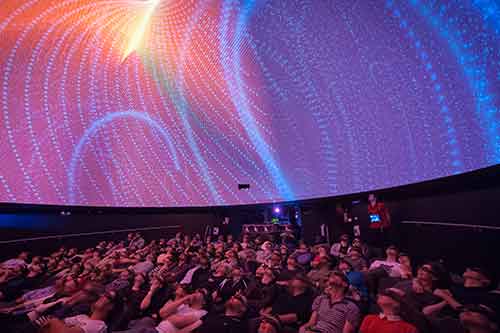 Press release issued: 10 November 2015
The Bristol Data Dome, housed inside At-Bristol Science Centre's Planetarium, will be launched next week [Wednesday 18 November] as part of the Festival of the Future City.
Connected to a dedicated high performance computer at the University of Bristol, the Data Dome is a pioneering development on Bristol's digital scene with the potential of visualising real-time data in a truly distinctive environment.
At-Bristol's Planetarium is the UK's only 3D space capable of showing crisp 4K resolution and audiences will have the opportunity to see a variety of content from earth sciences, open-data, to sociological mapping as well as a an experimental dome game in this format.
Paul Wilson, Managing Director of Bristol Is Open, said: "The launch of the Bristol Data Dome is integral to Bristol Is Open's aim of creating an open programmable city region and firmly places Bristol at the forefront of digital innovation.
"We hope that the range of content on display will show audiences the potential of this space and the cutting-edge technology available, which really brings the data to life."
The show will demonstrate how new technologies can be used to visualise the city and how the Data Dome could lead the way towards innovation in gaming, learning and citizen engagement.
The Data Dome will also be available for hire to enliven events for companies, organisations and individuals looking to use this unique immersive facility to take their audience engagement to the next level.
To book your tickets for the 8pm show please visit At-Bristol.
Ticket prices: £7.00 online; £8.00 on the day and £6.00 concessions. Booking fees apply.
Further information
About Festival of the Future City
Festival of the Future City, which runs from 17 to 20 November, will be the largest debate ever about the city and the future, bringing together academics, city planners, artists, writers, filmmakers, games makers, architects, politicians, journalists and commentators, poets, community leaders, businesses, scientists, think tanks and others to debate the future city with the public.
About At-Bristol
At-Bristol is a leading science centre in the UK and a major player in the worldwide science centre movement with over 277,000 visitors a year, including over 60,000 school visits.
About Bristol Is Open
How cities work is changing. Bristol Is Open, ajoint venture between Bristol City Council and the University of Bristol, is a research infrastructure to explore developments in software, hardware and telecom networks that enable more interaction between people and places and more machine-to-machine communication. The project uses a high performance software defined network as the city operating system, then internet of things platforms and big data analytics feed an emerging number of smart city applications. This is giving people more ability to interact, work and play with the city that they live in, and will help cities address some of the biggest challenges of modern urban life.